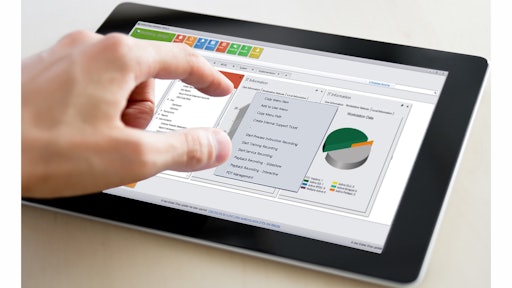 The Woodlands, Texas—Oct. 17, 2014—Most manufacturers, especially those that maintain quality certifications, are required to document every process in their business. This time-consuming task just got easier with the release of Process Documentation and Training (PDT) by Global Shop Solutions, a global provider of enterprise resource planning (ERP) software for manufacturers.
A fully integrated product within Global Shop Solutions' software package, PDT automatically records the operation of any task, process or program being performed within the software. As the user moves through the process, PDT records each individual step. At the end of the process, users can add detailed information to any step to provide a full description of the process.
"PDT gives our customers unprecedented ease and simplicity of process tracking," said Chris Okamuro, vice president and chief technology officer for Global Shop Solutions. "Whether it's a simple process like generating a sales order or a highly complex one, such as building multi-level bills of materials, PDT records and electronically stores the entire sequence of events in a fraction of the time required with traditional documentation processes."
PDT offers Global Shop Solutions customers several important benefits, including:
Faster, simpler process tracking and documentation.
Safe, secure management of quality documents.
An effective tool for training new employees.
Elimination of paper binders typically used for process documentation.
Easier updating of documentation when processes change.
PDT also identifies whether any existing recordings changed when Global Shop Solutions updates a program or issues a new software release. To protect documentation version integrity, managers have the option of accepting the new recording as is or marking it as replaced with another one.
"Even though PDT runs inside our software, it's flexible enough to be used with any program that runs in Windows," added Okamuro. "Customers can also use PDT to record any service issues they're having, allowing our customer service team to provide faster, more accurate technical support."
Companies in this article