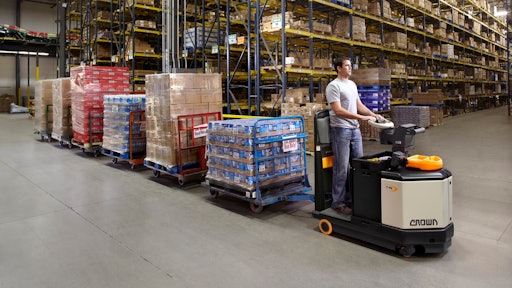 New Bremen, Ohio—May 8, 2012—Forklift manufacturer Crown Equipment Corp.'s TR 4500 series of tuggers allows operators to tow a rolling load capacity of 10,000 pounds and offers users ergonomic features that optimize operator handling and comfort.
The operator compartment of the Crown TR 4500 series includes a padded wrap-around backrest that contours to the operator; and an operator-sensing floorboard that eliminates a raised high-speed pedal to provide greater flexibility for body positioning. The floorboard's shock-absorbing design and urethane cushion enhances postural relief and operator comfort.
At the core of the Crown TR 4500 series is its drive unit that is built to endure constant jerks, jolts and demands of high through-put manufacturing and warehousing environments. The carefully integrated design uses top and bottom mounting for increased life and includes Crown's AC drive motor to provide high torque and greater draw bar pull. Crown's e-GENbraking system uses the torque of the AC motor to deliver frictionless braking for long life and trouble-free operation.
The series' frame is constructed of a combination of heavy-gauge steel and structural enhancements at the greatest points of stress. Steel power unit doors also provide protection to internal components. A 13-inch drive tire extends run time compared to other 10-inch tires. Robust, quick-adjust casters enable fast, easy adjustments to maintain optimum traction and enhanced truck stability while turning.
"We couldn't be more pleased with the performance," said Kevin Palmer, Director of Operations, Mohawk Home, a manufacturer and distributor of residential and commercial flooring which recently added the Crown TR 4500 to its fleet. "The tugger's ease of use and its ergonomic features have delivered an increase in our operator productivity. The vehicle's industry leading reliability and durability also have provided a noticeable reduction in our fleet maintenance and repair expenses."
Crown's electronic power steering system delivers precise control and eliminates awkward body movements that can contribute to increased fatigue and stress.
In addition, its Access 1 2 3technology works with the AC drive motor to automatically reduce the truck's speed as the steer angles increase, enhancing operator stability. Operators of the Crown TR 4500 Series also benefit from Crown's exclusive X10control handle that features ergonomically designed hand grips and dual thumb wheels that eliminate awkward wrist positions; simplify steering operation; and improve comfort.