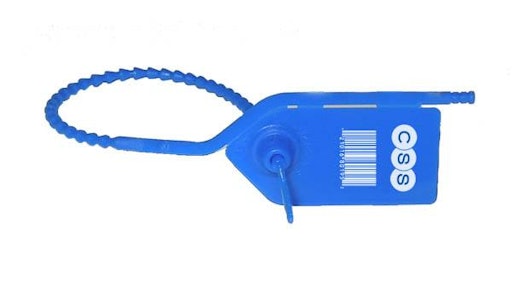 Pomona, N.Y.—April 27, 2012—Cambridge Security Seals (CSS), provider of tamper resistant and loss prevention seals, now offers its Light and Medium Duty Pull Tight Seals. Designed specifically to detect and deter theft or contamination by providing enhanced tamper evident protection, the Light and Medium Duty Pull Tight Seals are ideal for securing transport items that present a high risk should they be compromised—such as airline food and beverage carts; pharmaceutical totes; or first aid kits.
"In every security seal category, we are evaluating our designs and performance to provide better products," said Elisha Tropper, President and Chief Executive Officer, Cambridge Security Seals. "This launch is the result of a unified effort across the company—from marketing and product design to engineering and the manufacturing floor."
The new pull tight seal is constructed for greater durability in extreme weather and includes a high-temperature resistant locking chamber. An optional tear-away feature makes it easy to apply and remove by hand. The Light and Medium Duty Pull Tight Seal also features CSS's Clean Break Design which reduces cost and waste because individual seals detach from the strip without leaving behind any excess material.
"Many of our customers' most important security concerns are focused on items with the highest potential risk of theft or tampering," said Brian Lyle, Vice President of Sales and Marketing, Cambridge Security Seals. "This product meets their needs better than any currently on the market thanks to its strength, smart design for clear evidence of tampering and cost."
The Light Duty Pull Tight Seals (model number CSSLPT) are available in 15-to-18 pounds tensile strength options; while the Medium Duty Pull Tight Seals (model number CSSMPT) are available in a 25-pound tensile strength. CSS customers can customize their seals with logos, printed information, variable numbering and standard barcodes including 2D/QR technology. The Light/Medium Pull Tight Seals are available in seven standard colors with the option of customized colors.