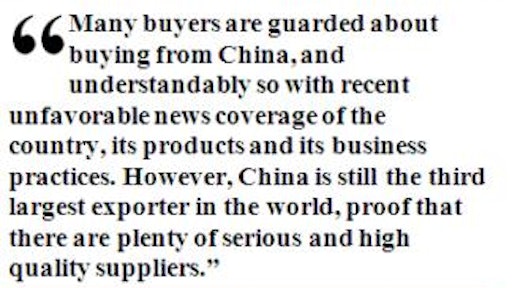 Second in a series of articles from Global Sources. Also read the first article, "Importing from China — Getting Started."
April 1, 2009 — China is still a growing market and capable of providing you quality suppliers. There are many ways to minimize your risk, and I shall share some of the more fundamental ones below.
My first trip to China wasn't on business, but as a tourist. I was apprehensive due to the many preconceived notions I carried, fed by media reports of the physical and social conditions there. I half-expected stomach upsets from badly cooked food and guarding against robberies at every turn. Most of my fears were unfounded, and you can find products and services of international standard.
Many buyers are guarded about buying from China — understandably so with recent unfavorable news coverage of the country, its products and its business practices. However, China is still the third largest exporter in the world — proof that there are plenty of serious and high quality suppliers.
Visiting China is a good starting point for doing business there. If not, there are many online and print sources to help you find quality products and suppliers, which I'll mention within this article.
The risks associated with sourcing in China can be minimized by understanding all the costs involved in your import arrangement. Some may be completely hidden, and others not overtly expressed. Many costs don't come in numbers but will nonetheless lead to bottom line losses if ignored.
Understanding the Market
Before deciding on what to import, look at your local market to make sure that the product is in demand. Then find as much information as possible about the export market for that product in China. Be vigilant and ask every detail you need to know. If you cannot obtain first-hand opinions, sourcing publications are a good place to start.
Sourcing publications include those that give general trend overviews like Global Sources magazines and those that provide detailed studies on specific industries, like China Sourcing Reports.
Finding a Trustworthy Supplier
This is perhaps the most important step in your import business. A serious and dependable supplier minimizes any concerns on quality, trust and disputes.
There are a number of sourcing sites where you can find suppliers from massive directories. To find the right one can be a laborious task, but your work can be made easier by going to sites that screen suppliers before they are listed — like Global Sources Online, run by my company. Under their "verified suppliers" system, suppliers need to have their company information and contact person verified and are visited three times in-person before being authenticated as a "verified supplier." This also means if you pick a "verified supplier," you can be sure the contact person is a legitimate representative and the company is registered and export-ready.
A good sourcing portal should allow you to easily contact prospective suppliers. They should display clear contact names, phone numbers and e-mails. The listings on Global Sources Online, for example, let you send direct inquiries to suppliers so you can ask further questions on their products such as price and minimum order quantity.
Once you're in contact with prospective suppliers, address all your quality concerns with the right questions. State your requirements to suppliers clearly — like product warranty, key specifications and order terms. Alternatively, some suppliers will provide product samples if you ask, so you can first test them yourself. If you're happy with the quality of this sample shipment, you can order in bulk. If possible, try and attend a sourcing fair to test samples free of charge. Most sourcing fairs are organized around themes like "Clothing & Garments" or "Electronics", so buyers like you can meet all the specialized sellers of the products you want.
Factory Visits and Inspections
China's business environment is changing rapidly, and you'd be surprised how much factories can develop in a year. Visiting a factory is easier than you think — many suppliers arrange the transport for you and may even take you to competitors' factories. At the China Sourcing Fairs, for instance, exhibitors arrange for transport right to their factories from the fair grounds.
There are a few reasons why you'd want a factory visit:
To meet the management and see if the company is competent.
To gauge the factory's level of technical sophistication.
To check if the factory complies with regulations and labor laws.
To see who else has placed orders with that factory.
To determine if the factory's production capacity is as claimed.
To see if the factory is subcontracting production to other factories.
If this is too much trouble for you, consider appointing a local agent or third-party quality (3PQ) firm to inspect the factory on your behalf. Get someone who speaks the language and knows local business conditions enough to make a good judgment. Most agents usually charge by commission from the amount of goods you import, and they also inspect the output before it gets shipped.
Before the Goods Are Shipped
Product quality can be found satisfactory during your factory visit, but issues can arise once they are to be shipped. Some problems include: wrong count, wrong mix of product types, SKUs, improper handling during loading, inadequate dunnage or damage to the container. All may leave you with unusable products on arrival and a long delay to replace them.
You have three options:
1. Rely on the factory or trading agent's assurances. This carries the highest risk since many suppliers and agents are highly motivated to get the shipment out. Even honest businessmen may not have time to witness the loading and inspect the goods. You can afford this if your product isn't high unit cost, high warranty or recall risk, or time sensitive.
2. Observe the loading yourself. May not be practical considering the many shipments, suppliers and enormous amount of time it will take.
3. Have an employee or agent inspect the goods and observe the container through the whole loading process. In fact, the loading report is often used to obtain the letter of credit payment.
Compliance Issues
You need to understand the relevant import compliance regulations before even placing your order. Different regulating bodies in your country may be involved, depending on what you import. Go to their Web sites to understand, register or download the required forms. Compliance issues can be very complicated for some products, and you might need a good customs house broker.
Even with the help of a customs house broker, track the process and provide assistance such as providing additional products information and endorsing bill of landing. You may need to issue a power of attorney to your broker and purchase customs bonds — guarantees that you will abide by all laws and pay additional fees incurred.
Neglecting compliance can be costly in the form of unexpected customs duties or clearance delays. Common subjects for stricter inspection include contraband, potentially dangerous items and organic items.
Landing Costs
Get a good estimate of the landing cost before you make your order. Landing cost is the sum of: cost of the goods up to loading on the transport, transport costs by forwarder, import duties (if any), local transport costs and cost of service providers (inspections, agents, etc.).
Note that import fees vary depending on what you import, the country of origin and destination. Experienced exporters should know how much it really costs to ship to you, but do your homework nonetheless. You assign Harmonized System (HS) codes to shipments based on this, and a wrong code delays custom clearance.
There may be many hidden costs in getting your product from the China factory to your warehouse. You may consult an import management company. Another way is making a small order first to collect all costs involved and predict these costs for your intended order quantity.
Delivery from the port of entry to your final destination is sometimes an overlooked landing cost. To resolve this, contact the many "last mile" service providers in your home country. They deliver from your local port of entry to your company grounds.
Sidebar: List of Common Shipping Terms
Pro-forma invoice (PFI)
— A quote from a seller to a buyer. Shows you what the invoice will look like and sets out the seller's terms. Often used to obtain financing for large quantity orders.
Purchase order (PO)
— Document to purchase goods or services from a supplier. Contains the name and description of the goods you are buying, quantity, price, payment and delivery terms.
Commercial invoice (CI)
— Bill for goods delivered or about to be delivered. Specifies exactly the product, quantity, value and a list of any special charges such as handling, packing, one-time set-up fees, etc.
Free on board (FOB)
— The price that includes all costs up to the shipment stage. This excludes the costs of shipping your goods through international borders, import duties, etc.
Letter of credit (LOC or L/C)
— An agreement between your bank and your supplier's bank to release payment only on certain delivery conditions, like successfully clearing customs or successful loading. Usually used for large transactions.
Minimum opening order (MOO)
— Some suppliers expect your first order to be of a certain minimum before allowing future orders in smaller amounts. A future order under this term is termed RO (reorder).
Force majeure
— A French legal term translated as "greater force". This contract clause removes liability for natural and unexpected events that affect the transaction, like natural disasters, transport mishaps or union strikes. Many buyers get insurance for such situations. The main types of insurance are marine cargo insurance, freight forwarding insurance and cargo insurance.