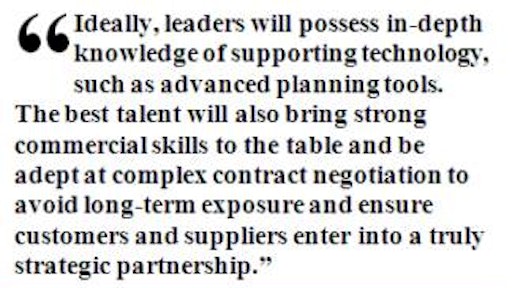 March 31, 2009 — Large industrial companies have historically regarded aftermarket as a low, value-add support function. The range of services offered has tended to be reactive-based rather than focused on innovation to enhance long-term client relationships and, hence, the bottom line. Traditionally, aftermarket services have been homogenous, and — beyond hi-tech and automotive industries — firms have rarely viewed them as a key differentiator. Despite potentially attractive margins, the trend has been for organizations to under invest in the aftermarket, demonstrating a failure to understand the service line's long-term contribution to profits, especially in weak trading conditions. Given the current focus on reducing capital expenditures, after-sales service will be key as the need for critical parts goes up. While progressive organizations recognize this phenomenon, they have been slow to dedicate the requisite talent to the sector, and there is often a disconnect between product sales teams and their aftermarket colleagues.
Recent market turmoil has led to a shift in mindset; employers in the Engineering and Manufacturing sector are starting to proactively seek a new breed of talent to capitalize upon potential opportunities in service management. Clients across different industries — such as capital equipment, aerospace and electronics — are vocalizing common themes, including:
The dramatic fall in hardware sales having forced organizations to turn to value-added services for new revenue opportunities;
Customers becoming increasingly sophisticated and demanding improved service levels at lower costs enforced through exacting metrics and service-level agreements;
Technological innovation having afforded real-time visibility across the extended supply chain, resulting in improved parts availability and lower inventory levels.
They are also noting that the correlation between after-sales service and customer satisfaction is increasingly marked, and that the intensifying focus on green logistics is exacerbating the need for world-class repair and warranty services.
Not surprisingly, most sectors are predicting exponential growth in service management and recognize the need to build leading-edge capabilities as a matter of urgency to stay ahead of the curve and, in some cases, to survive. Some players will develop this expertise in-house, while others will partner with third parties to deliver differentiated services. One of our leading industrial clients recently projected that revenue from aftermarket services will double over the next two years with the advent of customized client solutions that improve overall equipment utilization and yield.
The benefits of becoming a leader in this space can be significant. Aftermarket accounts for up to a third of profits within many multinational capital equipment companies, despite a lack of clarity around cost-to-serve and margin by customer or stock keeping unit (SKU).
In order to capitalize upon potential opportunities, a new approach to designing, building and sustaining service capabilities is required. Organizations must change business models to ensure product sales and aftermarket teams develop a holistic approach to revenue generation. Rigorous analysis will be key to segmenting customers according to service needs. This will ensure a focus on high-value opportunities while providing valuable insight into product design for Engineering and R&D.
Companies that emerge as aftermarket leaders will be well positioned to become independent service providers as they increase levels of lock-in by continuously improving responsiveness, taking market share from low-cost body shops as well as direct competitors.
Attracting the right senior talent will be critical to successfully transitioning aftermarket services from a support function to a business-critical capability. Pioneering organizations are actively recruiting externally, often accelerating their progress with the help of executive search firms. Increasingly, clients seek leaders with a track record of transitioning from a products to a services/solutions play, coupled with a demonstrable ability to transform the aftermarket function into a key revenue stream and standalone brand for the business. The best executives will identify new revenue opportunities while continuously lowering costs but maintaining high service levels. Even the beleaguered automotive industry remains bullish about the opportunities with aftermarket and the chance to bring some of the service market share back in-house and differentiate based on quality.
Ideally, leaders will possess in-depth knowledge of supporting technology, such as advanced planning tools, which remain a key enabler in highly commoditized industries, including electronics contract manufacturing, and have a direct impact on the business model. The best talent will also bring strong commercial skills to the table and be adept at complex contract negotiation to avoid long-term exposure and ensure customers and suppliers enter into a truly strategic partnership.
Given the historical lack of talent flowing into the service management arena, executives with this blend of skills remain in short supply. Organizations, therefore, may have to prioritize requirements depending on the maturity of their aftermarket capabilities. Partnering with specialist service providers and/or bringing in top talent will be the decisive factor in an organization's ability to transform its aftermarket function into a source of competitive advantage and a differentiating factor in an increasingly commoditized landscape both throughout and beyond the current downturn. To achieve this objective, multinationals will have to demonstrate the function's strategic importance to the business and have a compelling proposition coupled with the infrastructure to scale at pace. All things being equal, the "best" candidates will go where they feel their talents are utilized and rewarded. So in order to win this war for talent, companies must implement clear succession opportunities for stellar performers, for only then will they be positioned to keep and attract scarce aftermarket talent.