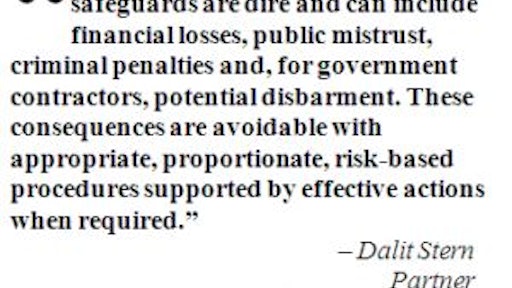 New York — August 11, 2009 — With procurement fraud cases continuing to proliferate, companies must put into place effective strategies and procedures that mitigate risk in an effort to prevent procurement fraud, according to a new report from
PricewaterhouseCoopers
.
In an analysis of the
National Procurement Fraud Task Force (NPFTF)
data, PwC underlines these risks in a report entitled "Cracking Down: The Facts about Risks in the Procurement Cycle."
Among the fraud schemes covered in the report — including bribery, bid rigging, embezzlement, money laundering and false claims — bribery was the most prevalent type of scheme prosecuted by the task force, accounting for 27 percent of the schemes identified.
PwC said that the report's analysis reflects its experience in helping organizations to respond to and mitigate procurement risk. The report brings to light the tendencies and business dynamics that have resulted in the government's recent spike in prosecutorial activity.
"Since the creation of the National Procurement Fraud Task Force, more then 400 procurement fraud cases have been pursued," said Dalit Stern, a partner with PricewaterhouseCoopers Advisory. "These cases have resulted in more than 300 criminal convictions and hundreds of millions of dollars in civil settlements and judgments."
The U.S. federal government established the NPFTF on October 10, 2006, to promote the prevention, early detection and prosecution of procurement fraud. Chaired by Assistant Attorney General for the Criminal Division Lanny A. Breuer, the task force members include the FBI, the Department of Justice inspector general and other federal inspectors general, defense investigative agencies, federal prosecutors from United States Attorneys offices across the country, as well as the Antitrust, Civil, Criminal, Environmental & Natural Resources, National Security, and Tax Divisions of the Department of Justice.
According to its
Web site
, "The Task Force focuses on civil and criminal enforcement where it has the greatest effect, including defective pricing, product substitution, misuse of classified and procurement sensitive information, false claims, grant fraud, labor mischarging, fraud involving foreign military sales, ethics and conflict of interest violations, and public corruption associated with procurement fraud."
PwC's research indicates that corporations and other organizations have greater exposure to procurement fraud than most senior managers and board members realize. "This is precisely why processes need to be strong and the effectiveness of controls should be periodically monitored and evaluated," said Stern. "The true test of whether a corporation's internal controls environment is effective and its ethics and compliance program is robust is when it faces possible collusion between vendors and employees or learns of demands for kickbacks."
PwC's report discusses the increase to procurement risk in light of the economic downturn and the specific impact of cost reduction measures including delayed upgrades of IT systems, strained procurement systems and other factors that can cause organizations to be vulnerable to procurement risk.
The report also highlights recent developments in the area of procurement, including that in addition to the federal government, state and local governments have stepped up enforcement efforts. More than 20 states and cities, including New York and Chicago, have followed the federal government's lead by enacting their own civil false claims acts.
Further, recently, President Barack Obama ordered an overhaul of the federal contracting system and launched an effort to establish new federal guidelines on procurement and contracting. According to the PwC report, procurement risk extends across a multitude of industries, and schemes vary in nature, complexity and scale. Almost two-thirds of reported cases do not involve military-related spending.
Stern continued: "Other industries that were subject to task force prosecutions include education, aerospace and telecommunications. In total, from June 2007 through June 2008, procurement fraud cases involved more than 25 distinct industries. In fact, the range of industries, array of government agencies involved, and the crime's geographical reach indicate that the common denominator of procurement fraud is vulnerability in corporate controls."
Profiling an offender is difficult according to the PwC report. The report states that offenders came from all types of backgrounds. More than half of defendants were vendors or their employees, and more than 30 percent involved public servants.
The PwC report highlights that procurement fraud is perpetrated by individuals with significant operational knowledge of the systems and processes they abuse and that offenders tend to operate "under the radar." Hence, complying with and monitoring policies related to bidding processes, information management systems, vendor maintenance, and invoice and payment processing can create opportunities for abuse, making it difficult to detect and prevent abuse and fraud.
Examples of potential red flags for procurement risk include:
Information management

Inconsistent data compiled across procurement-related systems
Significant data quality issues relating to spend data and vendor data

Procurement process

Lack of controls around use of preferred vendors, negotiated contracts
Low compliance with corporate preferred buying guidelines

Vendor maintenance

Multiple instances of the same vendor within master data
Inconsistent vendor payment terms across the organization

Invoice and payment processing

Duplicate payments
Inefficient invoice processing
PwC suggests that procurement risk increases during an economic downturn. Often, essential software and hardware upgrades are delayed due to reduced revenues and workforce cutbacks. "In addition to the delays in upgrades, vendors and service providers will feel increased pressure to get business, and some will do so using any means necessary," continued Stern.
In order to mitigate procurement risk, PwC recommends that companies evaluate the vulnerability of their operations including purchasing, accounts payable and IT systems, as well as:
Consolidate vendors and streamline procurement processes.
Strengthen IT systems by focusing on the set up and maintenance of vendor master files and other support systems.
Do not rely solely on a code of ethics and whistleblower hotlines. These are powerful tools when used appropriately and in combination with other antifraud measures.
Perform periodic due diligence of vendors using a risk-based approach.
Analyze procurement trends, payment patterns, and changes in the mix of products and services procured to find indications of wasteful or collusive behavior.
"The benefits for corporations that take the necessary steps and create effective strategies and procedures to prevent waste, abuse and fraud are clear," said Stern. "The consequences of not establishing safeguards are dire and can include financial losses, public mistrust, criminal penalties and, for government contractors, potential disbarment. These consequences are avoidable with appropriate, proportionate, risk-based procedures supported by effective actions when required."
The PwC study is available at
http://www.pwc.com/us/en/forensic-services/publications/cracking-down.jhtml
.