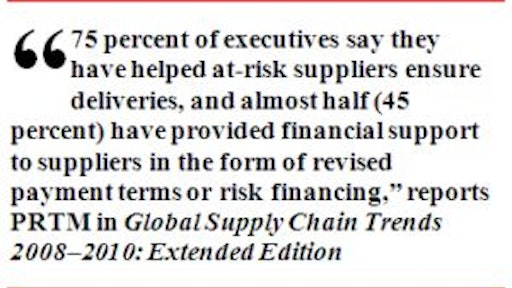 Mountain View, CA — August 3, 2009 — Senior management at global companies says the impact of the recession on supply chains has been massive and hard-hitting, according to a new survey conducted by
PRTM
, a global management consulting firm.
The findings have been released in PRTM's "Global Supply Chain Trends 2008–2010: Extended Edition," which illustrates how organizations are addressing the economic crisis in the context of their supply chains, contrasting results with those from a similar study released by the firm prior to the credit market collapse.
Although many top-line priorities remain the same, respondents have identified a new priority — improving cash flow and working capital — as urgent. Respondents across all industries now consider this their highest priority. Even those that are considered "healthy" assume they may face challenges when seeking funding from financial institutions, due to stricter requirements.
Among the more surprising of results is that as many as 75 percent of executives say they have helped at-risk suppliers ensure deliveries, and almost half (45 percent) have provided financial support to suppliers in the form of revised payment terms or risk financing.
The crisis also is forcing changes to some companies' global footprints. Some executives are questioning recent outsourcing decisions and "in-sourcing" selected activities. This trend is most widely reported by companies in the automotive sector, where 27 percent plan to in-source activities to tighten control over supply chain performance.
Others are sharply increasing focus on supply chain flexibility. Defined as the ability to maintain cost-effective delivery capabilities in times of unscheduled and large demand fluctuations, supply chain flexibility is still considered the most critical success factor for supply chains worldwide. Many are redesigning their sales and operations planning (S&OP) processes and embarking on initiatives to reduce product complexity as a result.
Missed Opportunity?
Shoshanah Cohen, director of PRTM's Global Supply Chain Innovation practice, is surprised that only 29 percent of firms are pursuing value-added services to increase revenue, protect margins and set themselves up for future growth.
"Many are simply postponing new equipment purchases and selling off inventory," Cohen said. "There is a huge opportunity for those who take an innovative approach to bundling products with services that appeal to customers, even in these hard times."
The new survey results reflect the views of more than 75 global manufacturing and service companies. PRTM surveyed the respondents between April and May 2009 and contrasted the responses with those of more than 300 global executives who participated in the original "Global Supply Chain Trends 2008–2010" study released in May 2008.
More information on the update report is available (registration required) at
http://www.prtm.com/StrategicViewpointArticle.aspx?id=2478&itemid=2478&langtype=1033&linkidentifier=id
.