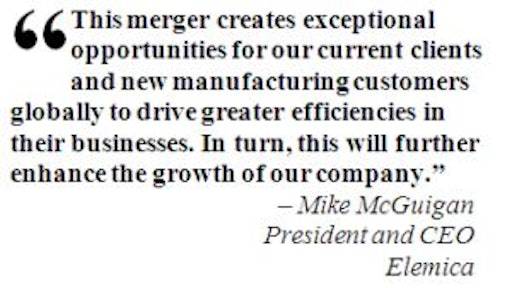 Frankfurt — August 3, 2009 — Elemica, a supply chain services provider serving the chemical industry, and RubberNetwork, serving the tire and rubber industry, have merged in a move that they said would deliver closer collaboration for global manufacturing supply chain partners.

Elemica offers solutions for supply chain integration and execution, and the company has a significant presence in the chemical industry. RubberNetwork provides sourcing and supply chain integration for the global tire and rubber industry. The newly merged company will operate under the Elemica name.

The two companies said that their offerings were "highly complementary" and that the combination of RubberNetwork's sourcing services united with Elemica's supply chain network would prove valuable to the combined client base as well as new customers that the company is expecting to sign.

"The products of both Elemica and RubberNetwork are similar but not overlapping," said Mike McGuigan, president and CEO of Elemica, who will continue to serve in this role for the combined company. "This merger creates exceptional opportunities for our current clients and new manufacturing customers globally to drive greater efficiencies in their businesses. In turn, this will further enhance the growth of our company."

The global footprint of the merged company includes offices in Atlanta, Amsterdam, Frankfurt, London, Seoul, Shanghai, Singapore, and Tokyo. Headquarters will remain in Exton, Pennsylvania. Financial terms of the merger were not disclosed.

Elemica and RubberNetwork enable collaboration for buyers, suppliers and logistics service providers, and they facilitate B2B integration. Ultimately, the new Elemica will have approximately 2,500 partners connected to its supply chain network.

The company integrates dissimilar business systems into one unified network across customers, suppliers and third-party providers, irrespective of company size or industry, helping companies cut structural costs from the supply chain. Savings are realized through execution of business processes such as order-to-invoice, procure-to-pay, and logistics, resulting in error reduction and lowered inventories.

In addition, sourcing services allow customers to reduce procurement costs primarily for indirect materials and services using online bidding technology, negotiation strategies and targeted benchmarking, Elemica said.

"The combination of Elemica and RubberNetwork makes great business sense," said Phil Ringo, CEO of RubberNetwork. "We have successfully worked together for many years and share common values. Shareholders are committed to sustaining the values that led to our individual success and to leveraging the strengths of the united company to deliver greater value to our customers."

Elemica's customer base includes Arkema, BASF, BP, Dow, DuPont, Lanxess, Rohm and Haas, and Shell. RubberNetwork clients include Continental, Cooper, Goodyear, Hankook, Kumho, Michelin, Pirelli, Sumitomo, Toyo and Yokohama.