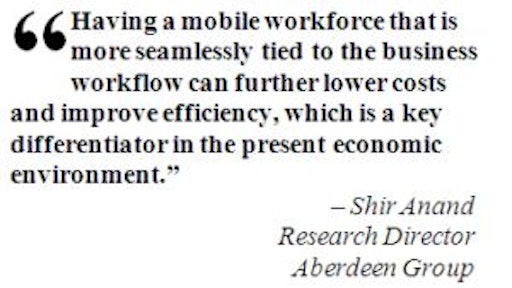 Arlington, VA — September 11, 2009 — Leading retailers have excelled in significantly improving the customer experience and streamlining their warehouse operations and inventory processes through the use of mobility devices, according to a new report from
Aberdeen Group
and the
Retail Industry Leaders Association (RILA)
.
Mobility devices are defined in the report as wireless handheld devices or handheld computers for enabling customer service, personalized shopping, retail payments at the point-of-sale, real-time data and statistics in the field, and other inventory management processes, including those with distribution centers.
According to the survey 73 percent of leading retailers indicated that they had a mobility initiative in place for more than a year, allowing them to offer a stronger brand promise, a more valuable customer experience through improved focus on assisted-and-self-service, and a nimble workforce with better workflow processes in the store, warehouse and supply chain operations.
Casey Chroust
Executive Vice President, Retail Operations
RILA
"Leading retailers understand that innovation and evolution are critical to meeting the changing needs and expectations of consumers," said Casey Chroust, executive vice president for retail operation for RILA. "For those retailers that have embraced their use, mobility devices have enhanced the shopping experience by streamlining check out while also providing store personnel with the tools needed to best serve customer needs."
In addition, the report relayed that mobile technology has transformed the day-to-day operations for retailers by ensuring a more efficient and effective supply chain and field workforce.
"Having a mobile workforce that is more seamlessly tied to the business workflow can further lower costs and improve efficiency, which is a key differentiator in the present economic environment," said Shir Anand, chief author of the report and research director for Aberdeen's Retail, Hospitality and CPG Practice.
Fifty-seven percent of leading retailers are able to ensure secure data transfer during the upstream and downstream data flow between the field and headquarters or vice-versa. "Due to the increased awareness and compliance requirements for Payment Card Industry Data Security Standards (PCIDSS) and other Wi-Fi security protocol requirements such as Wi-Fi Protected Access (WPA and WPA2), leading retailers are compelled to re-visit and improve their secure data compliance on their Wi-Fi networks," says Anad.
Based on the current use of mobile applications in the retail industry, the top three functional uses are inventory and warehouse management (79 percent), transactions (79 percent) and point-of-sale line busting (74 percent). These results denote that almost eight out of every 10 retailers that currently use mobility in their stores focuses on improving differentiation via productivity and customer convenience.
The report concludes that retailers can benefit greatly from introducing or expanding mobility in field stores and warehouses. Competition at the shelf has led to the need for better time-to-customer information, time-to-decision information and enhanced visibility. Mobility addresses these concerns, which provide an ROI.
Aberdeen Group surveyed 129 retailers between July and August 2009 to reveal the best-in-class methods and techniques to ensure configurability, integration and the extensibility of mobility infrastructure in the 21st century retail.
The Retail Industry Leaders Association (RILA) is a trade association for retail companies. RILA members include more than 200 retailers, product manufacturers and service suppliers, which together account for more than $1.5 trillion in annual sales and more than 100,000 stores, manufacturing facilities and distribution centers domestically and abroad.
The report, "
Mobile Field Workforce in Retail: Strategies to Reduce Total Cost of Ownership
," is available for free (registration required) through the Aberdeen Web site at
http://www.aberdeen.com/includes/asp/sponsored_registration.asp?ci=/launch/report/benchmark/6018-RA-mobile-total-cost-ownership.asp&spid=
.