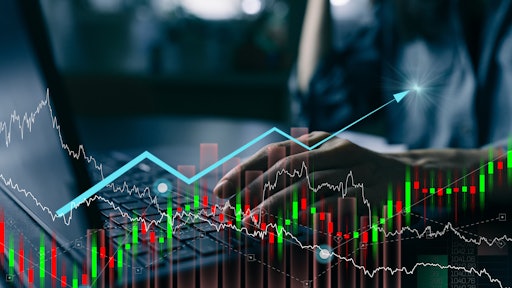 Leonid AdobeStock_501221203
The GEP Global Supply Chain Volatility Index fell to -0.50 in July, from -0.26 in June, indicating a further and accelerated rise in excess capacity across global supply chains.
"We're now in the 14th consecutive month of subdued demand across Europe, and our July data shows it's getting significantly worse across the continent, in contrast to North America. Our data does not indicate a 'soft landing' in Europe. As a result, companies have greater leverage to negotiate favorable terms from suppliers for 2024 and 2025," says Jonathan Kinghan, VP, supply chain consulting, GEP.
In fact, global supplier spare capacity was nearly on par with its zenith during the pandemic in May 2020, rising for a fourth month in succession and indicating a considerable weakening of global economic conditions, the report outlines.
Key takeaways:
July data signaled a weak start to the second half of 2022 for the global economy, with demand for commodities, components and raw materials remaining depressed.
Demand weakened in

Europe

especially as conditions in major markets such as the

United Kingdom

,

Germany

and

France

worsened. In fact, excess capacity at European suppliers reached its highest level since the global financial crisis of 2008-2009. In contrast, demand in

North America

fell to a weaker extent than in June, tentatively pointing to some divergence in the trajectory of the economies on either side of the Atlantic.
Global demand for commodities, components and raw materials continues to weaken at the strongest pace since the start of the year.

Europe

is seeing the steepest downturn in demand by a notable margin, while purchasing activity in

Asia

fell slightly in July. North American demand conditions were less depressed than in June, hinting at potential divergences opening between major markets.
Reports from businesses of safety stockpiling fell below the long-run average in July as a result of sustained efforts by companies to destock. However, in

North America

, stockpiling ticked up slightly in July, despite months of subdued demand.
Supply shortages have ended, with reports of item scarcity now in line with historically normal levels.
Despite historically low unemployment in economies such as United States, reports of backlogs directly due to a lack of employees are historically low.
Global transportation costs fell further to the lowest level since

January 2016

.