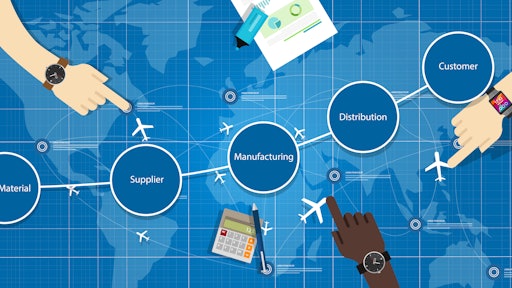 bakhtiarzein/stock.adobe.com
The past several years have unlocked many learnings for the retail sector, particularly as it relates to supply chain logistics and solving for the related mishaps and breakdowns. While everyone in the retail industry, from manufacturers to consumers felt the weight of supply challenges, many Private Brand manufacturers were particularly hit hard due to their nuanced regionality and therefore lesser scale within the CPG space. Short-term solutions were used to mitigate the day-to-day challenges, but they were reactive bandages trying to patch a much larger wound - the need for the supply chain to evolve. Innovation is moving faster than ever, and connectivity amongst all stakeholders remains paramount for future success. From my unique position of partnership across manufacturers, brands, retailers, and shippers, two elements are incredibly influential to future success: the need for technology and interconnected partnerships.
Adopting Technological Advancements
While there have been vast technological improvements across many sectors, it may come as a surprise that for many retailers, advancements in technology and systems have not progressed with the speed that's taken place in other industries. For example, the process of placing purchase orders followed by scheduling the pickup and delivery of the associated finished goods is largely a manual process for many. While we have graduated from handwritten purchase orders, much of retail has a long way to go to become technologically efficient. The lack of shared systems between stakeholders and logistics teams creates a void in which human intervention is inevitable, increasing the probability of costly production errors and mass inefficiencies.
Many processes including forecasting, order tracking and check-in/receiving can benefit from technology that creates integrated communication between suppliers, manufacturers, retailers and shippers as a solution carried all the way through to on-demand inventory available to the consumer. Digitization is a necessary evolution to not only generate efficiencies, but to streamline communication and reduce errors. The expanded use of innovative technologies to further automate processes also creates an environment rich in data that can be collected and integrated to expedite decision making and problem solving for organizations, producing invaluable benefits to positively affect all stakeholders in the supply chain process and more importantly – the end consumer.
Interconnected Partnerships
While technology such as interconnected platforms that can talk to each other will go a long way towards automating processes, the second component of supply chain evolution is just as crucial: connectivity and communication. Supply chains often do themselves a disservice by not working together as key partners to make better decisions and problem solve effectively. The present state of the retail supply chain often includes only a link between two of the three primary stakeholders of carriers or shippers, retailers and manufacturers. To garner the most benefit, or in other words to mitigate the most risk, all three stakeholders need to seamlessly align and work together in a triangle of mutual data exchange, problem solving and collaboration.
As the retail space becomes more complex and further challenges arise, it is expected that transactional relationships will continue to cause the most strain. Stakeholders that build deeper partnerships and enable the sharing of information will create robust synergies and benefit the most during this evolution. Not only will these partnerships allow for quicker problem solving and improved processes, but also the opportunity to form collaborative long-term strategic plans that look beyond the next twelve to eighteen months. This mutual success, particularly important to the retail sector, will be directly tied to how invested each stakeholder is with one another in the supply chain process.
Where to Start
There is no pre-ordained plan on how this evolution begins or where it ends. It is always easier said than done, but the lessons that we have learned in the past several years do point to the necessity for the retail supply chain to evolve and for stakeholders to remind themselves how valuable partnering up can be to achieve a better outcome. With the help of technology and interconnected partnerships amongst stakeholders, this evolution can bring a myriad of positive benefits supporting future stability. This may include increased efficiencies and forecasting, reduced costs, better inventory controls and data, along with stronger partnerships for faster decision making. Mitigating all risks may be impossible, but instituting these advancements now may be the difference between easily solving a future challenge or scrambling to manage a major setback.