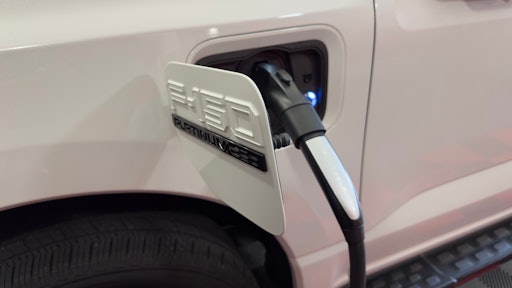 terryleewhite/stock.adobe.com
The Biden administration's February 2023 manufacturing guidelines for electric vehicle (EV) charger stations have manufacturers scrambling to onshore supply chains to boost production.
The requirements — which mandate that EV chargers be manufactured in the U.S. beginning immediately, and at least 55% of charger components be sourced from the U.S. by 2024 — are the first step toward creating a coast-to-coast network of charging stations designed to accelerate consumer adoption of EVs.
However, the tight timelines mean that EV charger manufacturers, many of which are startups, must move quickly to establish partnerships with U.S.-based materials and components suppliers and qualified contractors. The primary challenge? Vetting suppliers and contractors to ensure compliance with current and future governmental, safety and environmental regulations.
To streamline the process and minimize risk, charger manufacturers need to adopt digital solutions that can connect them to certified contractors and suppliers. With a technology-driven solution, manufacturing startups can meet demand while staying abreast of changing environmental rules and safety regulations as the EV charger industry evolves.
The risks of rapid onshoring and sourcing in the U.S.
Charging station manufacturers are rapidly scaling their operations and domestic supply chains to meet the approaching deadline. However, startups often struggle to establish partnerships with contractors and suppliers, especially if they lack industry connections. Startup manufacturers may also struggle to properly vet new partnerships if processes are not in place to ensure contractors offer quality services and comply with environmental and safety regulations.
Additionally, as the EV charger industry matures, companies may fail to keep pace with evolving regulations if they track information using legacy systems like Excel spreadsheets or paper files. These methods can lead to crucial information not reaching workers at the right time. As a result, manufacturing companies could face operational setbacks or possibly jeopardize workers' safety if they are not effectively tracking updated regulations.
With all this in mind, startup manufacturing organizations can benefit from digital technology that simplifies and modernizes onboarding and compliance processes. Digital solutions can also help ensure startup EV manufacturers follow Made in America requirements and effectively develop their operations with workers' safety top of mind.
3 ways a contractor management solution can help organizations expand operations
The right digital tools can help your organization create a safe and efficient work environment as you navigate the challenges of an emerging industry.
As your business grows, there are several areas in which these solutions can deliver notable improvement:
Identify the right contractors and suppliers
Skilled contractors can help you scale your operations by increasing efficiency, ensuring flexibility, reducing costs and improving quality control. However, it can be difficult to identify the right specialists for each project, especially when it comes to checking licenses, certifications and compliance records.
A contractor management solution simplifies and streamlines the qualification process through a single repository. In collaboration with industry experts, you can assess high-level and in-depth insights about contractor qualifications and evaluate whether the contractors meet requirements for workplace health, safety and sustainability standards. Equipped with comprehensive data and analytics, you can make informed decisions about your partnerships.
Monitor evolving regulations
EV charger regulations will continue to change as new standards emerge. Your organization will need to effectively track and follow evolving operational and safety guidelines — it takes time and resources to ensure company-wide compliance.
Additional support makes this process more efficient. A digital solution can help your organization identify and adhere to changes in governmental and safety regulations. Furthermore, the platform stores digital records of permits and contracts to help you verify that documentation complies with updated requirements.
For example, suppose the U.S. Environmental Protection Agency (EPA) releases new sustainability mandates in the wake of increased iron mining. Your company works to ensure all aspects of your operations, including suppliers and contractors, comply with the updated regulations. However, this process requires communication and flexibility to quickly adapt processes. An industry partner can help collect and report environmental, social and governance information from contractors and suppliers to assess compliance.
Standardize processes
Standardizing onboarding and production processes over time can help reduce workplace confusion and protect workers' health and safety.
One of the ways a digital solution helps is by quickly onboarding new hires. The tool evaluates worker readiness based on industry and individual plant requirements and identifies when workers need additional training to help keep them safe. In addition, the solution can deliver and track compliant training and site orientations to equip workers with important safety guidelines.
Along with onboarding management, technology solutions can help identify processes that work and uncover opportunities for improvement. Digital tools enable you to evaluate and adjust production methods while providing valuable insights gathered from other industries to inform best practices. When you standardize operational processes, it sets workers up for success — especially in a rapidly evolving industrial environment.
As with any nascent industry, we will see new EV charger manufacturing regulations emerge as time goes on. To stay ahead of the curve, consider adopting digital technology to streamline and speed up the production process and help build connections with key contractors and suppliers. With the right technology in your corner, you will gain the ability to efficiently scale operations while helping ensure the safety of the people you count on for your company's success.