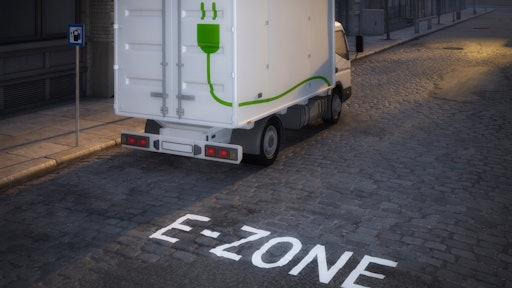 Herr Loeffler/stock.adobe.com
The Biden presidency presents a golden opportunity for the private sector across North America to work with government to shorten and secure the supply chains of critical minerals and kickstart the electric vehicle revolution for industry and consumers.
In March, President Biden invoked the Defense Production Act to encourage domestic production of minerals required to make batteries for electric vehicles and long-term energy storage. As part of this initiative, Biden's order will help kickstart projects that extract materials, including lithium, nickel, cobalt, graphite, and manganese.
These recent developments in Washington offers unique prospects for the United States, which has the industrial footprint, the raw materials, and the engineering talent to be a major player in the EV battery supply chain. Policymakers should seize the moment presented by the Biden administration, while industry should use this occasion as a chance to transform its supply chains. President Biden's action reaffirms his government's commitment to the EV sector, which will have lasting impacts on the US domestic auto industry.
The EV Revolution: Driving industrial activity
The electric vehicle revolution has been described as an "arms race." North Americans have lagged Asia and Europe in electric vehicle adoption but make no mistake, change will happen quickly. Biden's focus on climate change, electric vehicles, and associated investments, will pour rocket fuel on what is already one of the most consequential macroeconomic trends today – the transition to a low carbon future.
Until recently, Tesla has been synonymous with electric vehicles in North America as consumers have had precious few choices when in the market for a pure battery electric vehicle. The epicenter has been China, which has over 100 different models of electric vehicles, with strong regulatory and financial incentives that have accelerated adoption rates. In 2020, Europe came of age and the continent overtook China in total passenger sales. North America has been a laggard in electric vehicle adoption, but this started to change in 2021 with billions of dollars on investment announcements to onshore an electric vehicle and battery supply chain.
By 2025, the number of passenger electric vehicles is estimated that more than 120 new models of EVs will be available in the marketplace, covering everything from pickup trucks, SUVs, and crossovers – vehicles that have great appeal to North American consumers. As consumer demand shifts to EVs, so, too, must industrial investments and actions from government. President Biden's early focus on promoting electric vehicles was a welcome development however his more recent actions, including invoking the Defence Production Act along with a host of other investments such as a national EV charging network, will have a consequential impact on the demand for US-based critical minerals and supply chains for generations.
Cobalt: Made in America?
As sales of electric vehicles continue to increase and automakers and battery makers scramble to secure critical materials, the importance of battery components such as lithium, nickel, and cobalt have led to inflationary commodity prices for these key materials. Which makes President Biden's actions even more relevant.
Fortunately for the United States, the country already has a secure supply of cobalt, located in the State of Idaho. While a relatively unknown fact, Idaho is home to America's 'cobalt belt', with a past-producing mine, two mineral projects and many more cobalt prospects across a mineralized system that extends for some 50 miles.
The Idaho cobalt deposits present are a great example of the opportunity available to the United States to secure and shorten supply chains of critical minerals. We believe the Idaho Cobalt Belt has the potential to supply 30% of US demand for cobalt over a 30-year period using low-footprint underground mining methods. To make this a reality, the Biden Administration can and should lift the regulatory burden for responsible producers to ensure these raw materials are brought to market in a manner that respects the environment, is cost effective, and attractive to investors. There are many opportunities for true win-win solutions for the environment and the economy.
The American edge
Practically speaking, the White House approach to climate change and recent invocation of the Defence Production Act means policymakers must continue picking winners and supporting them with financial and regulatory measures that foster investment.
This includes dedicated funding programs and tax measures to match investments from the private sector. In December 2019, the European Union approved €3.2 billion in subsidies aimed at helping Europe boost its lagging competitiveness in the electric battery sector. In 2021, the E.U. announced an additional €2.9 billion to support additional battery investments in research, development, and production. The goal is for Europe to be able to produce its own battery cells by mid-decade. The payoff for Europe was almost immediate, as sales of electric vehicles increased nearly 70% in 2021 to 2.3 million units, surpassing China.
The United States has something the Europeans do not: vast mineral deposits. With these deposits, governments should bet on the electric vehicle supply chain with a specific emphasis on the full supply chain for battery production. This involves mining battery materials, chemical processing, battery cell manufacturing, battery pack assembly, and – to complete the life cycle – battery recycling.
In creating this complete value chain, the United States creates jobs and opportunity for hundreds of thousands of Americans. Batteries are the most expensive component of the electric vehicle, and the United States' unique value proposition with mineral deposits like those in Idaho put the country in a compelling position to attract investments.
The Biden Administration has correctly recognized the future of the automotive industry as being green, and that electric vehicles will be the preferred choice of consumers as society moves toward a cleaner future. In leveraging these macroeconomic trends, the Biden Presidency presents a golden opportunity to transform American supply chains and secure critical minerals for generations to come.