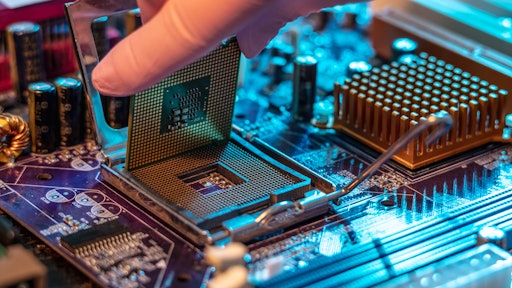 Artem AdobeStock_423257572
The pandemic has amplified supply chain issues across industries. Whether it was a trade restriction or a product shortage, all industries have felt the impact at some level over the past 18 months. Today, one of the most notable disruptions impacting companies across all sectors is the supply-demand imbalance of semiconductors, which has created the ongoing chip shortage. As a result, the production of cars, laptops, mobile phones and video game consoles has been impacted along the way.
Most recently, in the automotive industry, leading carmakers are cutting back on production due to the shortage. Some manufacturers expect availability of key components to remain tight into 2022, with some experts stating relief might not happen until 2023.
Why does the semiconductor shortage matter? It is impacting organizations of all sizes, from startups to large enterprises. For some companies, it could mean a delayed new product or innovation because they are unable to get their hands on the components needed for the next great Internet of Things (IoT) device. For others, it may hit their checkbooks when they pay higher prices for the chips they need. And even worse, some companies will not survive until 2023 when the shortage is expected to improve.
As companies of all sizes grapple with the market disequilibrium in their own unique ways, there is one risk that is increasingly impacting everyone — especially startups that may be under tight budgets and increased pressure to develop an innovative product -- counterfeit chips.
What history tells us about the proliferation of counterfeit chips
Counterfeit electronic components are not new, with the earliest reports of counterfeit chips occurring in the 1970s. Fast forward 50 years, and we have been through numerous periods of time when we've seen increases in the number of inauthentic components entering the market. Oftentimes, extended shortages trigger nefarious individuals or groups who try to capitalize on the increased demand by developing and trading counterfeit parts.
A famous case from 2011 resulted in a woman being sentenced to three years in prison after importing counterfeit integrated circuits from China and Hong Kong before selling them to the U.S. Navy and defense contractors. The organization she led was falsely marketing the products as being of "military-grade" quality. This became the first federal sentencing for trafficking counterfeit integrated circuits.
However, it's important to note that not all counterfeit electronic components are created with malicious intent — some result from scrap stock, refurbished parts or even mislabeling.
In 2019, it was estimated that the counterfeit chip market value was $75 billion and those parts may have been used in more than $169 billion worth of electronics. As the chip shortage continues to impact the global economy, these numbers will likely grow.
Don't get caught buying bad chips and suffering the consequences
The current shortage may result in companies turning to alternative sources to obtain hard-to-find parts, as their regular suppliers struggle to keep up with demand. While experienced buyers have the knowledge and ability to source high-quality components, the open market can be risky for those entering the first time. On the surface, it may appear like a variety of products is available at competitive pricing and will arrive quicker than expected. The risk lies in the result.
For example, the internet has made it easy for everyone to get what they need within a few clicks. Imagine trying to get your hands on a part that is allegedly impacted by the chip shortage. You enter the part name you're looking for into your favorite web browser, then a broker appears to have the part in stock. The problem with this process is there is not the same level of quality assurance with individual brokers and potentially no recourse if what you ordered isn't what you receive.
The damage from a counterfeit chip is limitless. At best, you receive an inferior product that may not function as it should or could break quickly. This can result in damage to a company's invaluable reputation. At worst, counterfeit chips could be carriers of a cyberattack such as ransomware, which could cost your company millions, if not billions, of dollars in lost revenue.
When looking to purchase electronic components in the open market, it's important to not only consider who you are buying from, but to also ask questions to ensure you know exactly what you're buying. When working with reputable distributors, it is possible during a shortage for companies to safely acquire parts that ensure minimal risk.
So, how do we mitigate the inevitable risk?
At the end of the semiconductor shortage, there will be winners and losers. Taking shortcuts will only put you at a disadvantage for the future, which is why it is important to understand how chips are bought and sold. The open market can be a risky option for buyers who have not done their research to properly vet their suppliers. While there is opportunity for high returns, there is also a high level of volatility and potential for inauthentic products. As such, it is important to buy from a company that can track the supply chain of the products. Even better, partner with a company that goes the extra mile to ensure product authenticity through their comprehensive sourcing, inspection and testing processes.
Trustworthy independent distributors need to have numerous procedures in place to mitigate the threat of counterfeit components, starting with avoidance. Through careful selection, thorough qualification, and continual evaluation of their suppliers, distributors can help prevent suspect parts from entering the open market. Once product is secured from a credible source, it should then go through a rigorous testing and inspection process to confirm authenticity. This should include a combination of visual inspection, nondestructive testing, and destructive testing to identify any inconsistencies with the manufacturer's specifications.
But, how can you determine the quality of a distributor's processes and procedures? Look for ones that are backed by third-party accreditations. In particular, look for anticounterfeit certifications, such as CCAP-101 and AS6081, as well as certifications for highly regulated industries, such as medical, aerospace, defense and automotive. These accreditations signify that a distributor has been thoroughly evaluated by a certifying body and has demonstrated that their processes meet the intensive standards of each accreditation.
When deciding to partner with an independent distributor, it's important to understand their financial strength, commodity expertise, supplier screening and management processes, quality control processes, certifications and overall capabilities. But, even more so, it's important to educate yourself. There are countless resources available to reduce risk in the buying process.
With the right knowledge, resources and partners, companies can better weather the cyclical nature of the semiconductor supply chain.