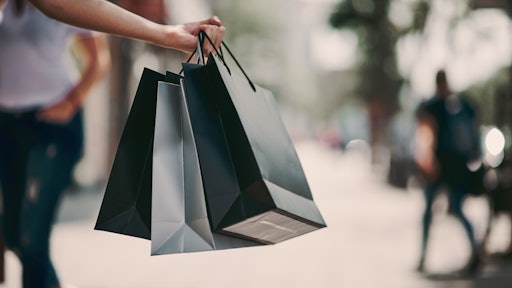 chika_milan - Adobe Stock
While cargo ships continue to sit in U.S. ports, consumers are stuck endlessly waiting for the holiday gifts to arrive. Instead of wrapping them up and tying them with a bow, consumers are constantly met with inbox updates about delayed shipments and out-of-stock items, with no end in sight. Due to a lack of various personnel, including dock workers and truck drivers, it's likely the supply chain disruptions will continue through the rest of the holiday season and beyond.
Because of these delays, retailers are facing huge problems keeping inventory stocked while answering to frustrated customers. But, despite delays and out-of-stock merchandise, Black Friday sales surged 29.8%, with the National Retail Federation predicting sales for all of November and December could grow as much as 11.5%. Why? Because retailers and customers alike are determined to push through the supply chain problems. Some of this year's Black Friday sales started as early as October, encouraging consumers to get ahead of their holiday shopping.
But, with all these purchases comes an additional wave of challenges for retailers -- returns.
Returns can help minimize inventory stocking pressures
Returns often end up piled in warehouses for long periods of time or worse, sent to sit for hundreds of years in a landfill. But, that doesn't have to be the case. Instead, retailers should see returned items as an opportunity to easily boost in-stock inventory during the busy season.
Before retailers can really see the value of returns, they need to put the proper technology platform in place to address the condition of these items and send them to the most profitable channels. There are several ways retailers can do this, with the help of automation. The first is implementing artificial intelligence (AI) and machine learning to determine where returns should be sent from their initiation, rather than shipping items from place to place, increasing their processing times and environmental impact as a result.
Retailers can also invest in an integrated inventory management system to restock unopened and unused returns the moment they arrive. This empowers retailers to be aware of the inventory they have available in real-time, instead of waiting for returns to be fully processed. By doing this, retailers are able to get returned products back into the hands of customers quickly and avoid constant out-of-stock issues. One example of an industry where this is crucial is online fashion, where 30-50% of their sales end up being returned, with the vast majority of those goods being brand new with tags, but ending up going to liquidation at the end of the season. This is a huge source of good inventory that retailers can tap into during a time of high demand and shortages.
Resale markets are hot for returns
Resale has spiked in popularity this year, with interest from both retailers and consumers only expected to grow. Major brands have all doubled down on their resale platforms, while 223 million consumers said they have or are open to shopping for secondhand products.
There's a clear interest in resale, and it makes sense. When retailers have opportunities to sell their returned inventory, whether it be through resale shops, vendors or their own resale channels, that merchandise turns to profit and opens warehouse space for new items. Expanding a retailer's reach through these channels also provides the opportunity to tap into an entirely new customer base. With resale, customers can access nearly-new products at a discounted rate, and retailers can improve their bottoms lines and fulfillment facilities while being more sustainable. It's the ultimate win-win.
For retailers interested in getting into resale, the first step is organizing excess and returned inventory. With returns already picking up post-Black Friday, retailers need to have a good sense of the types of products they have, what condition they're in and the type of resale channel that fits their needs. Then, they can decide if they want to outsource their returns to an existing resale vendor or create their own white-label platform. No matter the avenue a retailer chooses, resale can help maximize the value of returned and excess merchandise.
Advanced returns technology is sustainable for more than just retailers
It's no secret that the retail industry is a huge contributor to climate change. Fortunately, advanced returns technology can offer benefits for more than just retailers and consumers -- it can help the planet too.
When retailers don't have the resources and technology to process returns, sending those items to landfill often becomes the easiest option. This has resulted in massive amounts of waste, with 5.8 billion pounds of returned inventory ending up in landfills each year in the United States alone. With increasing demands for sustainable business practices from consumers, adopting returns processes that contribute to the circular economy is critical for retailers hoping to grow and maintain their buyer bases.
As we move through the height of the holiday season, there's validity in wanting to focus on the forward supply chain issues directly in front of us. But, by investing in efficient returns processes, retailers can both tackle today's fulfillment frustrations while also setting themselves, and the planet, up for future success.