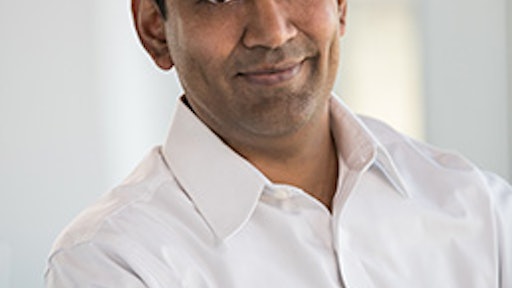 The biggest goal for supply chain practitioners has always been to ensure the right product is at the right place at the right price.
To accomplish this, retail merchants peer into market trend crystal balls to decide which products to carry in their stores each season. Planners use historical data to forecast demand for different products and replenish channels with inventory, while multiple layers of operators work tirelessly upstream to procure raw materials and drive the manufacturing and distribution of their products.
But, this product-centric approach has been turned on its head with the emergence of one disruptive competitor: Amazon.
Amazon's

Influence on Supply Chain

With its endless aisles and unlimited choices for the online customer, Amazon has rendered the assortment problem irrelevant. By continuously analyzing competitive prices and customer demand trends, it offers consumer-friendly prices every day, and its huge transportation network ensures customers next-day delivery, while also making the return process painless. The e-commerce giant accomplishes this with unmatched consumer intimacy.

By investing in robotics and automation across its fulfillment centers and eliminating waste at every level of its supply chain, Amazon also found a way to make all this affordable. Essentially, Amazon has digitalized its vast supply chain and as a result, it has turned the retail experience into a personal one.

In turn, the biggest transformation facing supply chains today is not digital per se, but the shift from a product-focused supply chain to a consumer-centric one. This transition is upending the decades-long focus on operational efficiency in the supply chain, which allowed companies to reduce their inventory levels over time. Amazon's success, however, changed the game, forcing companies to reevaluate how they approach product availability and their brand or store experiences. For the past five to six years, the ability to order anywhere, pick up anywhere and return anywhere has become the norm, and economic data from the Federal Reserve (see Figure 1) indicate that most companies have accomplished this by putting more inventory back into the supply chain, so that it can be positioned closer to the customer.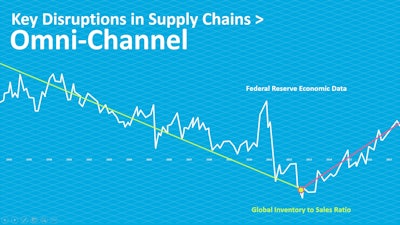 While adding inventory resolved the initial problem, it is not a tenable long-term solution. Inventory levels are now reaching unsustainable levels across various industries. For instance, in industries with short product shelf lives such as grocery, retail and hi-tech, companies are beginning to reel under unsustainable levels of wastage and obsolescence.
Although customer centricity remains the No. 1 priority, companies must be able to balance this need with operational efficiency if they want to stay in business. Harnessing real-time signals and learning from large volumes of internal and external data sets will be key to success as companies shift from using more inventory to using more information as a buffer against uncertainty. How effectively companies solve this challenge will be determined by where they stand on the digital divide. This modern-day version of "haves" and "have-nots" will shape a company's future viability, as those that evolve into a digital enterprise will benefit from more revenue and greater operating margins.
According to Christian P. Hagen, partner at A.T. Kearney Inc., "with the emerging digital ecosystem, supply chain will not only be efficient but also have the ability to pivot against increasing business complexity and uncertainty. This means the end of today's performance trade-offs, with potential to unlock 20 percent to 30 percent productivity and 20 percent to 40 percent inventory reduction, while supporting more channels, products and personalization. In short, supply chain becomes a critical strategic weapon for growth and differentiation."1
With stakes this high, supply chain transformation can no longer be viewed as a back-office function. Instead, it is a decision that must be elevated to the board room. Building a profitable, consumer-centric supply chain requires a strategic shift in how operations are handled, along with new levels of investment and support from executive leadership. If you are just starting to make this transition, the good news is you are not alone. Most companies are still in the infancy of this transformation. Following are some tips to consider as you explore next steps.
Now is the time to invest in digital technologies and talent.
Bumping up inventory levels to address customer centricity is a stop-gap solution at best. Real change will occur when companies start to invest in digital technologies and systems to best understand emerging demand trends and use artificial intelligence (AI) based solutions to make response decisions in real time.
Winning retailers are applying machine learning (ML) on a wide variety of data sets, including customer loyalty information, real-time point-of-sale information and competitive pricing information, along with external signals such as weather, local events and traffic to determine demand of an item at a particular store or for a particular consumer micro segment on an hourly basis with extremely high accuracy. Using the unlimited scale of AI-based agents, billions of complex inventory, pricing and shipping decisions can be made to achieve the desired levels of customer SLAs without adding significant inventory. Yet, the ability to operate entire connected networks with real-time data is a big challenge for many, and this lack of real-time visibility is keeping more advanced techniques such as AI and ML from being effectively deployed.
This shift to a consumer-centric supply chain will require new approaches to hiring and retaining talent. The future digital worker comes armed not just with technical skills or experience-based knowledge. They compete in a marketplace with their own personal array of bots, digital assistants and pre-built micro services that amplify their skills and knowledge many fold. While they rest at night, their assets are hard at work scanning the digital data sets for opportunities and risks, computing possible responses and ready to present their strategies when the day starts. In this marketplace, companies will evaluate recruits not just as individuals but as complete digital resources. Once an AI-driven ecosystem takes root, the war for talent will reach even higher levels than currently observed. It is critical that companies invest now in hiring the best, but also in protecting the digital assets that get created through various initiatives.
To move fast, an integrated platform strategy is necessary
Because demand volatility is high, supply chain agility and flexibility will be key to ensure that customer needs are met. The growing amount of available data about when consumers move between channels and how inventory moves throughout the supply chain—combined with greater processing power—now make it possible for companies to convert that data into real-time intelligence that can be used across the entire connected, digital network.
To support this digitally enabled supply chain, organizations will need to invest in a real-time, API-driven integration platform that connects supply chain and enterprise applications, database integrations, and IoT and robotics devices. Supply chain problems can be solved all the way from the factory to the store with a single, integrated platform that ingests real-time data and processes that information using AI and ML algorithms. As a result, any potential supply chain disruption or delay can be predicted and resolved before the customer experience is negatively impacted. This consumer-centric, cognitive platform strategy, accessible via the cloud, is the future of supply chain and will be the foundation that powers the next generation of supply chain solutions.
Companies in this article