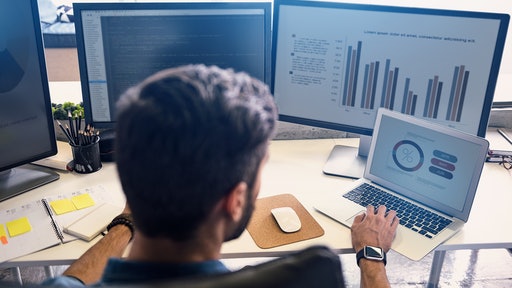 Getty Images
Many sourcing teams are relying on basic e-sourcing tools or legacy offerings from up to two decades ago that have not seen notable advancements. But, the challenges facing these professionals are getting more puzzling, and leadership is looking to invest in new remedies of substance to drive efficiency and value.
To get out of this 'sourcing rut' of limited options, procurement pioneers can set their teams up for success with the right tech and a roadmap with incremental steps. Sure, cutting ties with older tech can be a tough initiative to spearhead. It makes sense to try to make it work with a tool that a team spent time, money and effort on, and it probably delivered great results in the initial years. But, sourcing leaders know if you're not still relying on VHS players to get your movie fix, it's also time to re-visit your sourcing tools to drive transformational benefits.
The notorious spreadsheet
Here's a real-world scenario seen too often -- a sourcing need arises, but the buyer finds it difficult to configure the requirements in the company's e-sourcing tool. So instead, they get out the familiar spreadsheet and send that out via email. That workaround has the perception of being quick, easy and familiar, and under time pressure, the shortcomings and consequences of that choice may be dismissed.
Sourcing teams deserve more than Excel. The e-sourcing tool should help team members more easily meet their desired goal, which is to arrive at a timely, high-quality supplier decision that manages cost and minimizes business risk. Modern procurement processes and decision-making require careful consideration around multiple potential outcomes. Choosing which suppliers to award pieces of business to can be a vexing process when many competing factors are presented such as lowest price vs. delivery time vs. sustainability vs. incumbency vs. favorable contract terms.
Further, teams are generally flat or shrinking instead of growing, and the pressure for speed plus reducing business risk is on. The best solution to doing more with less isn't to turn back to tedious, manual spreadsheets -- it's in leveraging updated, easy-to-use technology.
What's driving us into the rut?
Today's sourcing teams face a myriad of complicated factors in their work. Disruptions can be unpredictable and require adaptability. The Coronavirus disease (COVID-19) pandemic is a telling example on a global scale, with both ocean and air freight transportation options experiencing unprecedented capacity constraints that drove up rates.
Logistics sourcing teams are now faced with rapid spot bidding, annual negotiated rates no longer being honored and decision making that must weigh a combination of factors such as higher rates, transit time speed, business impact, CO2 emissions and more. Many teams are even resorting to workarounds just to keep up with this new pace and demands.
Technology should progress to meet the needs of the time, and sometimes that requires more than just incremental feature additions or improvements here and there. With cumbersome interfaces, a lack of simplicity for higher-frequency use, and archaic architectures, old-school products often hinder sourcing teams and deepen the rut.
Complexity calls for an upgrade
Advancements over more recent years hold so many possibilities, such as the application of artificial intelligence (AI) and machine learning in automation; modern user interface design; data science; APIs that ease integration with other key sources of data; and more. The knowledge and tech is certainly out there and available, ready for you to give it a serious look.
Many leading organizations found the pandemic has been a catalyst for change and are taking a fresh look at the solution landscape to discover new ways to simplify complexity and processes, respond and scale faster, reduce risk, elevate quality and generate net-new and sustainable value to the business. In fact, companies deemed "complexity masters" by Deloitte have 30% higher adoption of modern technology and consistently outperform other companies in spend influence, savings, effectiveness and more. There's no wonder why 68% of CPOs are spurring a digital transformation by automating procurement processes with modern applications.
Modern technology allows sourcing teams to not only seamlessly run frequent spot bids, but also to move beyond a "lowest price" decision model. For example, when it comes to categories such as packaging and transportation, teams can weigh price alongside other factors, such as sustainable sourcing practices, delivery speed, reliability, contract terms, capacity and more.
Leading sourcing innovators are already using newer approaches to launch events within minutes and even automate the entire spot bidding process from start to finish – from selecting and inviting the right suppliers to compete, to collecting and validating the bids, to generating an award recommendation and alerting suppliers of the decision.
A roadmap out of the rut
The solution you have in place should be sustainable from a value delivery standpoint and be ready to future-proof your needs, at least for the next 5-10 years. Sourcing practitioners and their management may need to take a step back from the confines of the status quo and identify the gaps -- whether in tools, processes and/or skill sets.
Here are six key questions (and sub-questions) to answer to help get back on the sourcing highway of efficiency:
What types of bidding events are we not able to run in our current e-sourcing tool and why? Is that due to event size, complexity, or frequency? Is it a constraint due to the technology or a personnel capacity or training issue?
Do we have an easy way to optimize more supplier award decisions across even smaller spends, so that we can balance cost with other important criteria, such as sustainability, transit time, supplier reliability or alternative offers?
Where are we experiencing higher-frequency tedious sourcing tasks that are bogging down human talent and can more easily be automated?
Is our solution doing enough to enhance the supplier bidding experience and maximize competitive tension?
Are we where we want to be in terms of tool adoption and utilization? Where are we still relying heavily on spreadsheets and "offline" practices? Are the tool usage obstacles related to product training and onboarding, or to user dissatisfaction?
Where can we conduct experimentations and proof of concepts with digitization and automation?
The procurement landscape has never been more poised for transformation, and it begins with assessing your e-sourcing solution and understanding where benefits are missing and value could be added. Breaking down challenges one category at a time (for example, transportation or packaging) and focusing on driving excellence and improvement there is a great place to start before broadening your approach.
Partner with a solution provider that can help you address not just the challenges of today, but also equip you for what's coming around the corner. Sourcing leaders don't want to rely on yesterday's solutions for tomorrow's problems, and now they don't have to.