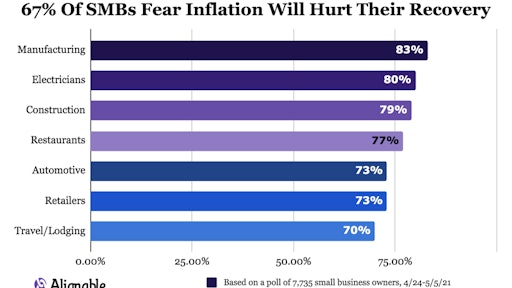 Alignable
More than two out of three small business owners (67%) are concerned that inflation will hurt their ability to recover, while 38% of small business owners say they're "highly concerned" about inflation, according to a new poll conducted by Alignable.
Beyond those inflationary issues, the majority of small business owners (52%) reported that they're hesitant to pass along these increased costs to their customers.
For the first time in the past year, the No. 1 concern listed among small business owners is the rising cost of supplies.
Small business owners in the construction sector are among the most worried about the devastation effects of inflation. And, a majority of manufacturers reported challenges with increased trucking expenses and difficulty in accessing some of the raw materials needed to create products.
From Alignable:
59% of respondents said they're having trouble getting supplies and the inventory they need.

Manufacturing, construction, retail, energy/utilities and transportation/logistics among the Top 8 industries most negatively affected by rising supply costs.