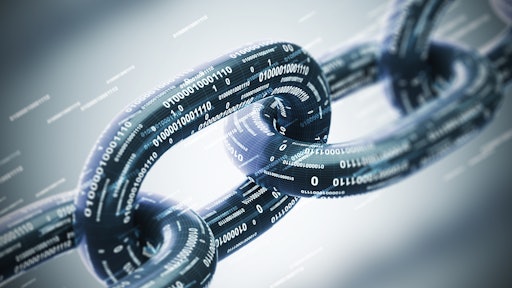 Getty Images
In the past few months, as the world's health crisis has unfolded, the importance of supply chain visibility has been brought to the forefront. Supply chains are experiencing extreme uncertainty – the Coronavirus disease (COVID-19) impacts the availability of raw materials and products, expanding manufacturing and delivery timeframes and draining inventory buffers. This disruption and chaos exposes companies, governments and consumers to fraud and manipulation. We see a significant rise in the prevalence of counterfeit medical equipment and other products while traditional audit measures collapse. These, however, are the symptoms of the challenges that modern supply chains face today.
Over the past few decades, companies expanded their reliance on different vendors to deliver better value through efficiency. But, this limited visibility and control over the entire multi-tier supply chain. Today, this complex web of global suppliers, contract manufacturers, and third-party logistic partners is being tested to its limits. While optimized to respond to "normal" dynamics, the current health crisis has made it clear that we need more visibility than ever.
Recent Gartner research reported that "a rapid and diverse spectrum of physical products and digital and technology applications for fakes and counterfeits has evolved to exploit gaps and weaknesses during a time where supply chains are already under intense strain." But, even in periods of calm, there are threats to the value chain that require a high level of visibility and transparency to meet the demand of today's consumers.
Resiliency of these networks can be strongly influenced by the incorporation of new capabilities to improve supply chain visibility and trust. By harnessing the power of digital transformation coupled with strong operational knowhow, supply chain practitioners can lead organizations through this crisis and build more resilient strategies for the post pandemic world we will face.
Threats to today's value chain
The notion of wanting to know where things are coming from and how things are made is a trend that we see across industries. Consumers (and buyers) are increasingly concerned about where their products come from -- whether it's ethically sourced coffee beans or authentic pharmaceutical drugs and medical devices. With the acceleration of 3D printing, replacement parts also introduce traceability and reliability concerns.
As a result, there are two drivers for implementing new technologies in today's decentralized supply chain:
1. Ensuring compliance
2. Establishing trust
For example, the food and beverage industry is largely governed by the U.S. FDA USDA regulations and standards. Without full control of the supply chain, manufacturers can face major risks – they may not be able to meet strict regulations, and in turn, buyers may be consuming food that doesn't match their personal preferences (for example, if they prefer organic foods). Or worse, even make them sick due to contaminated ingredients. Advanced technologies can help to ensure compliance across the supply chain network, and in cases where quality issues arise, be able to efficiently execute product recalls.
Establishing trust is key across verticals -- from automotive to industrial to medical. If a medical device manufacturer works with a new supplier for one of the components used in their device, they need to trust the effectiveness of that supplier's product and ensure that it meets quality standards and certifications. A faulty medical device, or one that doesn't work as intended, may result in injuries or even death.
An area that perhaps illustrates the combination of the two is 3D printed parts. The current crisis is expanding the use and adoption of additive manufacturing tools to meet the spike in demand for medical equipment and circumvent gaps in the supply chains. However, this also introduces more challenges and risks around quality, compliance, trust, traceability and authorizations. 3D printing has the potential to transform industries worldwide and improve supply chains, but there is a need to ensure that part qualification and integrity isn't sacrificed.
Technologies to mitigate threats
In order to establish visibility and trust in the supply chain, collaborative digital platforms enabled or powered by blockchains are helping lead the way.
These technologies make it easier to establish traceability, even when there's no single source of ownership in the supply chain. For example, with blockchain, manufacturers can validate and authenticate a product's origin, which helps to meet consumer demands for sourcing, addresses compliance needs and increases trust. Collaborative digital platforms help facilitate inter-company business processes as well as provide relevant information to the end customers in an easy to consume manner such as through mobile applications.
Collaborative digital platforms are ideal to record the full chain of custody and other traceability information necessary to ensure quality and authenticity and ultimately mitigate downtime and security risks. They also make it easier to onboard new vendors, even the small and medium-sized suppliers. Applications in the industrial, medical and high technology sectors, for example, can help meet the compliance requirements and security needs. Ensuring that all parts and products that flow through the supply chain meet those requirements demand a robust and agile method to securely verify the integrity of the physical parts and their associated data. Collaborative platforms can be used to ensure that supply chain data cannot be manipulated or altered. Verification of the physical goods and ensuring that supply chain data in fact are mapped onto the actual parts and are shared with authorized stakeholders are key ingredients of a comprehensive solution.
The future of the industry
This year, we've seen on a global scale the importance of supply chain visibility and elasticity. As companies adjust to the new normal, they must find a way to navigate fast-changing and opaque supply chains. They need to be able to adapt and respond faster to the supply chain dynamics. Having tools and capabilities to operate efficiently in "normal times" as well as effectively respond and manage disruptions in case of any of future crises is essential. To build more resiliency, organizations of all sizes should look to implement new technologies like blockchain and lean on their cloud partners and solution providers to help guide them through this journey. The need for resiliency has never been greater, and trust is the foundation. We have to collaborate across the supply chain ecosystem to build a world where trust is inherent in every part and product.
Companies in this article