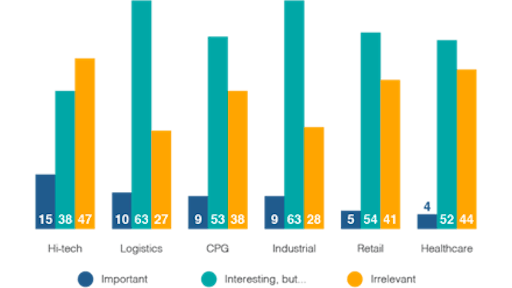 The idea of the sharing economy has gained momentum in recent years, thanks to the success of brands like Uber and Airbnb. Both have generated impressive profits by adopting a collaborative approach to business; collectively, the companies are worth more than $75 billion. But while this mainstream success made the sharing economy a go-to business innovation tool, it can be said that supply chain is the original champion of collaborative working. Supply chain professionals are well-versed in managing an extensive network of partners in which each company works independently to deliver a final product. But the next step in the supply chain sharing economy is within co-managed collaboration, which will see partners share resources and strengths more broadly rather than in a linear fashion.
Sharing Economy of Scale
The latest report from SCM World shows that the supply chain industry is already seeing the benefits of this. A survey of 155 senior supply chain executives found that 10 percent of people are already participating in co-managed collaboration to manage, for example, people assets, physical assets, planning technology, data/reporting and business processes.
The rise of the sharing economy means that finding the connections between individual companies becomes easier, as simplistic economics give way to dynamic networks through the merging of digital, physical and human resources. These connections, or networks of networks, help to fuel growth, both instantly and in the longer term, resulting in far more collaborative success.
The Customer Is King
The real motivation for companies adopting this sharing economy-style way of working lies in the need to cater more effectively to customer demand. Essentially, a single decision can influence a series of networks that make up the entire web of partners and suppliers, extending beyond just one organization to affect the resulting interaction with consumers.
By implementing a more opportunistic supply chain—one which addresses customers' needs as soon as they're created rather than trying to predict upcoming demand—a company is able to go beyond delivering the right product to the right place at the right time to connect supply and demand more efficiently.
Big Data Means Big Value
The real driver of the sharing economy within the supply chain is data. More than 70 percent of survey respondents said they receive valuable reporting data direct from customers and suppliers that is less than a week old or even in real time. Further to this, sharing data and reporting was one of the most popular areas for co-management of resources for companies that are already making the most of the sharing economy.
By placing timely and valuable data at the center of supply chain operations, it's possible to create more valuable platforms between partners. For example, a collaborative web portal can give visibility to everyone involved, from suppliers and contract manufacturers to third-party logistics providers and even customers. This level of visibility provides efficiencies that go beyond those platforms that simply connect internal operations to individual suppliers and customers.
The Time to Act Is Now
Most within the supply chain community have been slow to act, but the majority still acknowledge the potential for monetization within a sharing economy supply chain. Almost a third of respondents to the survey consider themselves a first mover or a fast follower in monetizing the opportunities with the sharing economy.
What does this mean in the real world?
The impact of a decision within a supply chain extends beyond just one organization. It influences a series of networks that make up the entire web of partners and suppliers.
For example, UPS, SAP and Fast Radius, a 3D printing company, work together to create an on-demand 3D printing manufacturing network. The working partnership sees SAP coordinate the real-time purchase and supply order data, while Fast Radius uses the data to print a product and UPS delivers the product to the customer.
Seize the Supply Chain for Success
The optimization of point-to-point supply chains is old news. Savvy supply chain executives now have the perfect opportunity to re-evaluate the way in which they work and interact with their partners. Considering that companies no longer have to contend with the lack of consistent platforms to connect with other businesses, it will be those that can adapt to a more collaborative style of working that will see the most opportunities for success.
Patrick Van Hull is the vice president of research at SCM World.
Companies in this article