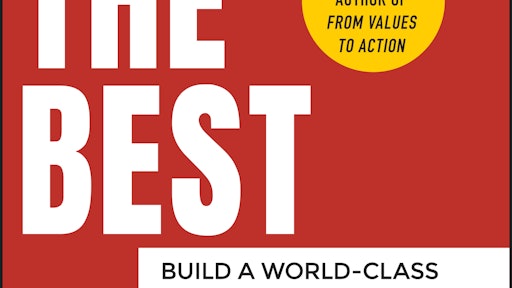 Transforming a traditional supply chain into a holistic value chain takes a special approach: best partnerships. Formed through collaboration and mutual respect, best partnerships are truly win-win collaborations in which the benefits are accrued by all parties.
When business is conducted as a series of transactions, it's all about price. In order for one party to win, another must lose as every dime is squeezed out. In best partnerships, price and profit margins still matter; otherwise it's not a best partnership. However, price is not the most important consideration because best partnerships recognize that long-term, mutually beneficial relationships are more efficient and a less costly way of doing business over time.
Before an organization looks externally to pick the strategic suppliers, manufacturers, engineers, distributors and others to become its best partners, the enterprise must first look within. In fact, best partnership is part of a continuum I call "the five bests," as I explain in my book Becoming the Best: Build a World-Class Organization through Values-Based Leadership (Jossey-Bass, 2015). The first of those five is becoming one's best self on the individual level, especially through self-reflection to increase self-awareness and further personal development.
Next, like-minded individuals who are committed to becoming their best selves join together as a best team. At this stage, with best teams of people being their best selves, the organization is ready to attract the best partners to do business on a mutually beneficial, long-term basis. (The final two of the five bests are best investment as an organization acts as a steward of all its resources and best citizen committed to doing good, locally and/or globally.)
Why Best Partnerships Matter
Even across industries and businesses that are driven largely by transactions, long-term best partnerships matter. Given the time and cost involved in developing, producing, marketing, and supplying products and services—and the need to improve speed and quality across the value-chain—long-term best partnerships are essential. Otherwise, an organization must continue to repeat and redo transactions, which does not promote the kind of consistency and quality improvement that can result from best partnerships.
The ideal way to approach best partnerships is from the perspective of the customer. Whatever matters most (quality, functionality, design, price, etc.) to the end user, the partnership must deliver, which requires each party to do its best at every step along a holistic value chain. More satisfied end users means more repeat business across the value chain.
Best partnerships exist at both ends of the value chain, with suppliers and distributors and also with customers. In both cases, best partnerships are earned through trust and mutual respect. Best partnerships are developed and proven over time.
Suppliers as Best Partners
Looking at the importance of best partnerships with suppliers, consider the example of healthcare, which is being dramatically impacted by changes in the regulatory and competitive landscape. Healthcare organizations today are under increasing pressure for greater efficiency, increased use of health information technology (health IT), and improvements in quality, patient safety and satisfaction.
One example is NorthShore University Health System, based in Evanston, Illinois, which takes a best-partner approach to improve satisfaction and cost efficiency for the benefit of its end users: patients and their families. Among its strategic best partnerships is in health IT, specifically electronic medical records (EMRs) to improve recording and tracking of patient information. Today, NorthShore is recognized for having one of the best health IT systems in the country because, more than a dozen years ago, it formed a strategic best partnership with Epic Systems Corporation, a Wisconsin-based health IT firm.
In this partnership, each party brought its best: Epic was responsive in creating an EMR system tailored to NorthShore's specific needs. NorthShore created a culture among its doctors, nurses and other clinicians that embraced technology as a potent tool. As a result, the EMR rollout took only 15 months instead of as long as five years. In addition, NorthShore became a demonstration site for Epic so it could present EMR to other potential customers. This also helped foster development of next-generation EMR—another benefit to both Epic and NorthShore.
Customers as Best Partners
When a company has a transactional relationship with customers, it's all about price. With a best partnership, the relationship becomes holistic. Broader and deeper dialog encompasses the entire value chain with greater potential for savings and efficiencies for all parties.
For example, at Baxter International, where I spent 22 years of my career, including as CEO, we took a best partnership approach with hospitals that buy our products. First, we sought to understand the total cost structure for hospitals, including the cost of storing, transporting and distributing products within their systems. We saw an opportunity to save hospitals money, and increase our business and profitability with a just-as-needed strategic value chain we called the Baxter Value Link Program. The ultimate best partnerships resulted in our hospital customers no longer needing distribution centers (eliminating that cost) because they had built up enough trust in us that vitally important supplies (sometimes literally a life-and-death matter) would be at the hospital, where and when they were needed.
Best Partnerships Create Win-Win Propositions
Best partnerships by definition are win-win propositions. Across the value chain, upstream to the manufacturers and downstream to the distributor or end users, best partnerships improve efficiency and foster innovation. All parties gain insights into how the other operates, which yields discoveries of how closer collaboration can improve quality and satisfaction for the end user.
Ultimately, success is measured in satisfaction and repeat business that leads to greater profitability to all involved. Across a holistic value chain, when every partner brings its best, one plus one equals three.