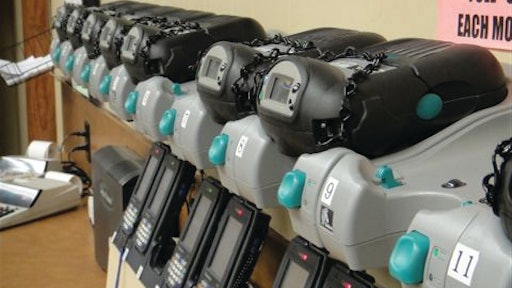 What would happen if an established beer distributor took a risk on a software company that had no experience servicing the beer industry? For both Comer Distributing Company and Rutherford & Associates Inc., it meant company growth, the addition of new and well-known customers and vertical market expansion.
Comer Distributing, a wholesale beer distributor that distributes many brands of domestic, craft and imported brews from around the world—including MillerCoors, Corona, Seagram's and Mike's Hard Lemonade— serves nearly 650 customers and distributes 1.1 million cases throughout 11 routes. But that wasn't always the case.
Background story
Founded in 1971, Comer Distributing started as a small, 250,000-case operation with only three routes and a single supplier. As the company grew and acquired more brands, its antiquated IT infrastructure and software hindered its ability to operate with maximum efficiency. The entire process of moving product from the supplier trucks through the warehouse and off to the retailers was too slow. Because information was limited with no customer reporting or real-time data available, Comer Distributing's competitive advantage in the marketplace faced diminishment.
Beyond these internal challenges, there were complications stemming from a changing marketplace. The beer industry as a whole was consolidating. Breweries had more people involved in day-to-day operations, meaning that distributors went from one person to manage—to about 20 people to manage. Retailers were becoming more demanding with their requests. And more suppliers were involved with a single brewery—complicating the entire supply chain.
To meet these growing challenges and prepare for the future, Comer Distributing needed a solution that would help increase visibility throughout the supply chain, enhance warehouse efficiency and provide access to real-time information through customized reporting capabilities.
Rutherford sets the bar high
Comer Distributing began to interview the traditional, well-known route accounting software vendors but found that these providers could not present an affordable solution to meet all its needs. Then came Holland, Mich.-based Rutherford & Associates. Though this company was successful in the soft drink industry, it had never worked with a beer distributor. Despite this, Comer Distributing was impressed with the functionality, price and flexibility of Rutherford's eoStar system, a route accounting software package that integrates back-office applications with mobile devices in the field to promote supply chain visibility and access to real-time data. Because of these functionalities, Comer Distributing decided to take a chance and work with Rutherford to customize eoStar not only for their specific requirements as a distributor but to the requirements of the beer industry as well.
The two companies added functionalities that made daily and monthly reporting, data entry and price and inventory maintenance more user friendly. Custom reporting features enabled management to attain complete visibility into the entire distribution process, which it never had. To give sales personnel and drivers easy access to real-time data, such as inventory and customer information, Rutherford installed eoStar on Intermec hand-held devices provided by Baltimore-based Barcoding Inc.
"At Comer Distributing, we have always been willing to take risks when it comes to employing the latest technology," said Chip Comer, President, Comer Distributing. "In this case, we put a great amount of trust in Rutherford, Barcoding and Intermec. Virtually every position in the company was affected by the transition to eoStar and by giving these innovators control over our data integrity, we were essentially handing them the keys to our company."
Distribution evolution
Integrating Rutherford's eoStar route accounting software with Intermec's hand-held devices revolutionized Comer Distributing's everyday business.
"Migrating from our old software to eoStar was like going from black and white to color," said Comer. "When we acquired our first wine distributor, we picked up 22 suppliers overnight. It would have been almost impossible to accommodate these new suppliers without the eoStar system in place."
The most immediate benefit from eoStar was Comer Distributing's new reporting capabilities. Because of the eoStar platform's flexibility, Comer Distributing's personnel could easily print reports and quickly view all metrics on an executive dashboard.
As eoStar evolved to meet Comer Distributing's growing needs, more significant time savings in warehouse and delivery emerged.
With inventory visibility offered through eoStar, Comer Distributing decreased the time to check-in supplier trucks by over 30 minutes per driver.
Previously, Comer Distributing used one, long load sheet. Now, the company has separate load sheets for different parts of the warehouse and no longer has to manually cut them. This saves time and uses 75 percent less paper overall.
Inventory time has been cut in half with the use of

Intermec

rugged hand-held barcode scanners in place of manual data entry and counting.
By loading trucks in the afternoon, Comer Distributing can finish the day by 6 p.m. This enables the company to shut down overnight, unlike many other 24-hour distributors, which saves time and money.
Comer Distributing now takes only two to three minutes to check its trucks before they leave for deliveries at retail outlets.
While en route, delivery drivers use the eoStar "delivery application" on

Intermec

handhelds to download daily orders, inventory information and any data changes, such as new products, promotions or customers.
Comer Distributing converted from large, 11-by-14 inch invoices, to smaller, simpler invoices, more convenient for retailers and which provide additional cost-savings. With mobile printers, drivers can print invoices and receipts on demand at the customer site.
Additionally, Comer Distributing's warehouse and delivery personnel experienced substantial time and cost savings, while the front office and sales team experienced significant benefits as well.
Sales personnel can upload orders and download the latest information on prices, promotions and customers in real time.
The accounting department eliminated paper-based bookkeeping by automatically exporting information from the eoStar solution to Comer's third-party Peachtree accounting system.
A tedious 15-step operation of duplicate data entry and extraction was reduced to a simple three-click process by configuring eoStar to automatically provide sales information to suppliers.
Prior, Comer Distributing frequently missed opportunities because sales personnel did not know inventory levels during the day. Now, if a product arrives mid-day, the sales team can see it in real time and sell it.
"Inventory tracking and visibility throughout our entire process is paramount to not only attaining warehouse efficiency but also maintaining successful relationships with our suppliers and customers," said Ray Roderick, Warehouse Operations Manager for Comer Distributing. "The ability to access real-time data during any point of the process or at any location creates a smoother, more efficient and ultimately successful process."
A recently added supplier plug-in to eoStar allows Comer Distributing to access real-time inventory information to let suppliers know exactly what Comer Distributing will need next. This eliminates the guesswork in the reorder process and further streamlines the supplier/distributor relationship and ensures inventory levels will always be accurate.
Partnership recap
The most significant result of the partnership has been the opportunity for both companies to expand vertically within this industry. Comer Distributing experienced both short- and long-term benefits of increased productivity and efficiency. The eoStar solution's functionalities have allowed the distributor to grow its supplier base far beyond to cover the more than 130 brands of beer, wine, malt beverages and some non-alcoholic drinks it represents.
Similarly, for a software company that, at the time, had no experience in the beer industry, this relationship enabled Rutherford to thoroughly understand the intricacies of alcoholic beverage distribution. The software company's alcoholic beverage customers now account for $3 billion in annual revenue and include three top 10 beer distributors.
Brent Durling is an IT Specialist at Comer Distributing Co. Inc. where he is responsible for researching, implementing and maintaining all technology systems and infrastructures, as well as assisting users with day-to-day use.