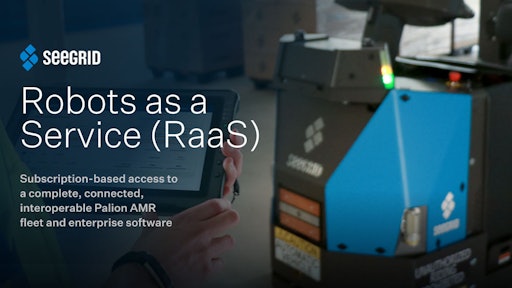 Seegrid
Seegrid has unveiled the addition of its Robots as a Service (RaaS) subscription model, allowing customers to have more options to facilitate access to the latest fleets and enterprise software solutions. The company will still continue to allow customers to purchase equipment outright and lease as needed.
"New use cases for mobile automation applications continue to emerge, and our customers are seeking to rapidly expand and evolve with Seegrid as their automation partner," said Jim Rock, Seegrid's Chief Executive Officer. "The addition of the RaaS model underscores our commitment to delivering industry-leading material handling solutions in the manner that best aligns with our customers' business needs."
The new RaaS model offers customers a lower cost of upfront investment, as well as provides an opportunity to subscribe for access to a complete, connected, and interoperable autonomous mobile robotic fleet with the latest enhancements.
As part of its commitment to ensuring all customers realize the full benefits of automation,

Seegrid

material handling experts will also help its manufacturing, e-commerce, and logistics RaaS customers—who are facing intense competition to meet increasing demands, labor shortages, and supply chain uncertainties—understand and define automation applications to ensure seamless implementation, integration, and adoption of

Seegrid

automation solutions into current operations.