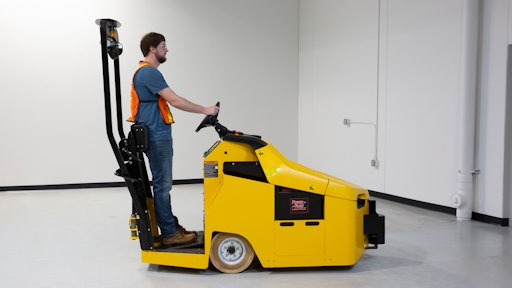 Polaris
Polaris' trusted Taylor-Dunn product line introduces the most ergonomic stand-up tow tractor in its class. The new TT-416 includes all the benefits of a traditional stand-up, provides the performance and efficiency expected from Taylor-Dunn, and has an extra focus on operator comfort and safety.
"We have the benefit of being able to take the best parts of Polaris' global leadership in vehicle innovation and scale, and pairing it with 70 years of Taylor-Dunn industry knowledge to provide a unique level of value to the commercial customer," said Sean Cheatham, vice president of product development of Polaris Commercial. "In developing the Taylor-Dunn TT-416, we listened closely to our customers' needs and workplace challenges, and applied our capabilities to provide them what they needed."
The Taylor-Dunn TT-416 is the industry's only stand-up tow tractor with full front and rear suspension and features the highest capacity operator compartment in its class. The TT-416 is capable of 5x5-foot aisle turning, is powered by a 36-Volt AC Motor, and can tow up to 16,000 lbs.
Safety features
The TT-416 is designed with superior safety in mind. Automatic braking on gas pedal release eliminates vehicle runaway potential, and a floor presence sensor requires operator to be on the vehicle to operate. LED headlights and a sloped body design enhances operator visibility, while yellow body panels, standard brake and side marker lights, reverse warning beeper and optional blue pedestrian light increase vehicle awareness. Dual emergency stop switches are also standard, which allows the operator to quickly shut down the vehicle's operation in case of emergency.
Enhanced comfort
Ergonomics are central to the TT-416 stand-up tow tractor. An industry-first front and rear suspension smooths the ride reducing operator fatigue and features such as adjustable tilt steering and optional power steering increase operator comfort. A rubber floor lines the bottom of the industry's largest operator compartment to help prevent operators slipping and offer easy ingress/egress. Optional seat back wings enhance operator stability. Additionally, an optional on-board hitch release allows the operator to connect or release the hitch without exiting the vehicle, and multiple storage areas keep necessary items secured.
Increased productivity
The TT-416 is designed for next-level productivity in the form of efficient and reliable performance, but also in serviceability. Sealed componentry allows the tow tractor to easily move from indoor to outdoor use, while higher capacity battery options and a regenerative braking system charges the battery during vehicle slowdowns, increasing runtimes. Maintenance downtime is reduced with the use of a 36-volt brushless AC efficient motor, heavy-duty GT drive system, and all-steel frame construction which optimizes durability and towing performance. Additionally, the TT-416 features a towing capacity of up to 16,000 pounds and a narrow turning radius as well.
The TT-416 stand-up tow tractor joins Taylor-Dunn's reliable line of tug solutions, which are designed to offer a safe, cost effective, and labor efficient alternative to forklifts and other options in many horizontal material handling applications. The lineup includes sit-down tow tractors with towing capacities ranging from 4,000-100,000 pounds. These reliable and efficient Taylor-Dunn vehicles are offered with industry-leading Jtec industrial carts to provide the full horizontal material handling solution.
"We see the material handling space as an opportunity to provide a level of product, service, and support that others can't," said Keith Simon, vice president and general manager of Polaris Commercial North America. "And, we are dedicated to ensuring that we continue to grow within that space by staying extremely close to the customers' needs and challenges. We're confident that with that understanding, we can always help our customers in uniquely beneficial ways."