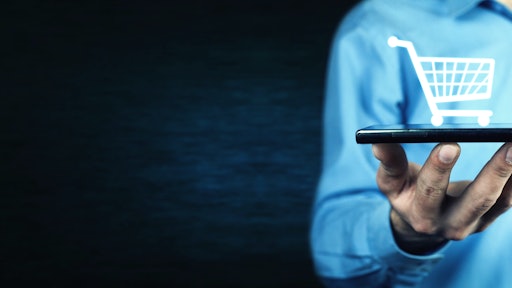 Getty Images
The "Amazon Effect"— the online empire's impact on consumer expectations and its ensuing business disruptions — doesn't just have wide-reaching consequences for retailers. It touches all points of the supply chains, meaning those who manage those chains and wish to remain competitive must be informed and proactive.
Given how rapidly the supply chain landscape changes, decision makers who want to stay in the know will need to pay careful attention. For instance, Amazon is pursuing patents related to drone delivery of their products, including a method for dropping the package in a protective box from 25 feet, airborne fulfillment centers and drones that respond to customers waving.
These innovations introduce economic uncertainty through cutting the middle man out of the traditional supply chain. In response, traditional supply chains must become more flexible and support more complexity.
While it presents a challenge, it also is an opportunity to rethink how to best manage the supply chain and reassess what kind of tools, artificial intelligence and analytics are needed to compete in that ecosystem.
The Impact of Digitization
A 2017 study by the Center for Global Enterprise indicates that supply chain digitization could cut supply chain processing costs in half, reduce procurement costs by 20 percent and boost revenue by 10 percent.
The internet age is replete with digitization success stories that yielded sales numbers higher than their brick-and-mortar counterparts. For instance, Dell leveraged these techniques in its operations department to grow from $6 million in 1984 to more than $25 billion in 2000. Other companies have benefited enormously from using digital approaches to create disintermediation such as Netflix, Apple's iTunes and many others.
These developments all put pressure on businesses to retain their edges in competing in a digital landscape, a tall order when major supply chain players are ill-equipped to administer efficient, high-volume production strategies. In the connected, digitally transformed world of supply chain, successful companies expect to accurately and instantly forecast and respond to supply and demand concern held by customers.
Challenges Ahead
Competing in today's complex distribution environment means adapting internal processes and infrastructure to accommodate external changes. Those challenges include the effects of strong competitors with core specialties, innovative technology and major retailers such as Walmart and Amazon entering the market.
Agile companies respond quicker than their less nimble competitors. Though, supply chain success also hinges on how well leaders manage its growing complexity, which is driven by the proliferation of stock keeping units, controlled substances, omnichannel distribution and unpredictable demand.
SKU proliferation alone is a thorny problem complicated further by companies trying to attract more customers with the use of a diverse, growing and exciting inventory. That's understandable from a sales point of view, but it increases the cost of purchasing or producing new SKUs, which then puts increased pressure on storage and picking orders.
At the same time, regulations continue to be a constant concern, whether that refers to hazardous materials, temperature control, food and drug regulation or other factors. With more SKUs and diverse suppliers, managing all of this today is more challenging than ever. Despite these challenges, customers have never been more demanding of high-quality service that's delivered seamlessly and efficiently.
Another major problem is visibility. Incisiv's 2018 Digital Supply Chain Executive Survey found that more than half of respondents saw real-time product visibility as the most critical factor in digital supply chain investment. In particular, more than half of retailers want end-to-end traceability.
Addressing all these challenges gets more complicated with the integration of a rapidly changing technological ecosystem. Whether it's robots, autonomous vehicles, delivery drones or augmented reality apps, there is a great opportunity for growth; but there's also the burden of successfully implementing and integrating these technologies.
For those that can meet these challenges, there is usually a compelling return on investment. Boston Consulting Group has shown that digital supply chain managers report product availability increases of 10 percent points, response times that are 25 percent faster and other significant improvements.
The Risk of Falling Behind
For all these reasons, transformation to the digital era is poised to change supply chain management and execution. In the context of the challenges facing supply chains both now and into the future, it's clear that old methods will not be good enough. Even today's concept of best-in-class performance will not suffice for the challenges ahead.
Those who evolve quickly will emerge as market leaders, and those who don't will fade into oblivion. Consider Wayfair, an interesting example of a company that seems to have managed to "out-Amazon" Amazon. The company has a $4.7 billion revenue run rate and saw 48 percent fourth-quarter 2017 growth, proving it is possible to win big in this new era.
It's clear that innovation will make or break companies' futures, but it's not always easy to know where to start in pursuing that innovation. Speaking generally, it will certainly involve being open-minded and collaborative with your teams to inspire your employees to disruptively grow their professional skill sets. It should also be guided by examining what your market peers are doing and measuring success through the achievement of short-term goals.
Specifics of how to incorporate these new approaches into operations are often less obvious. So for supply chain managers who want to evolve, what are some areas of opportunity management they should be exploring on the operations side?
Start by accurately defining the problem. For example: Do you have a "snowblower" issue or a "Christmas game" issue? The "snowblower" problem describes a situation in which you may know roughly how many snowblowers you sell in a season but not know which part of the country will be the busiest this year. The "Christmas game" problem is that you know that one of the 20 new games you are launching this season will likely be a smash hit, but you don't know which one until early in the fall.
The first problem calls for agility in your distribution network, while the other calls for agility and possible multisourcing in your manufacturing. It's important to make sure you know which will pertain to your efforts — and to prioritize accordingly.
Then, quickly integrate and find synergies. As your company grows, you need to continually find ways to create synergetic situations in which the total value is more than the sum of its parts.
To do that, leaders should seek out sources of value in the supply chain during transitional times, such as during a transaction's due diligence and pre-close phases. External advisors can be a big help here by finding exciting ways that two different supply chains can now enhance and mutually support each other. Those types of synergies can make all the difference in a highly competitive marketplace.
With those synergies, invest in new ways to reach and serve customers. Whether through investment in e-commerce platforms or synchronizing the end-to-end supply chain to efficiently expand customer services, always aim to please your customers and reach new ones.
Finally, develop excellence in product portfolio management. As you speed new products to market and deal with complex product issues, it's important to manage your product portfolio effectively. Make sure you are doing that in a way that best supports your model. Always remember that the best total customer experience wins, while delays, shipping errors, or poor product availability lose. Develop excellence in demand management using supply chain segmentation to design the right supply chains.
The digital era will be a test for supply chain management, but with the right approach, companies can increase revenue and streamline operations, staying competitive and reaping big rewards in the years to come. It's a time not only for growth, but also disruptive innovation. Leaders who jump in now will enjoy an exciting era ahead.