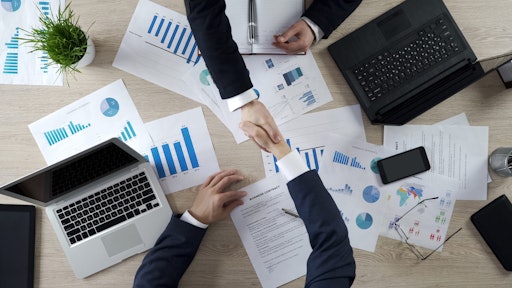 Motortion-Shaking Hands/Adobe Stock
Ryder System, Inc. has acquired Whiplash for $480 million. Whiplash's e-commerce and omnichannel fulfillment solutions have served over 250 brands with 19 multi-client warehouses.
"The acquisition of Whiplash is consistent with our strategy to accelerate growth in our higher-return supply chain business. It also expands our e-commerce and omnichannel fulfillment network and reflects our continued focus on technology and innovation," Robert Sanchez, chairman and chief executive officer, Ryder says. "Whiplash's best-in-class e-commerce platform and key geographic strongholds—coupled with Ryder's industry-leading transportation logistics solutions, positions us to deliver incredible value for our customers who are looking for more advanced e-fulfillment solutions in today's ever-changing landscape."
From Ryder:
Whiplash's facilities, operations, technology and warehouse automation and robotics will integrate into Ryder's e-commerce fulfillment solution.
Ryder plans to retain Whiplash's executive team and workforce.
The acquisition will add to Ryder's current e-commerce fulfillment network with 11 new facilities.
Additionally, the acquisition strengthens Ryder's presence in key port operations, providing four-corner coverage of all major U.S. inbound gateways via Seattle/Tacoma, New York/New Jersey, Savannah and Long Beach.
Ryder's e-commerce and omnichannel fulfillment solution is expected to be able to deliver to 100% of the U.S. within two days and 60% of the U.S. within one day following the acquisition.
"With e-commerce sales continuing to hit record levels and omnichannel retailing becoming mainstream, we're seeing a significant uptick in brands looking for more dynamic fulfillment services," Steve Sensing, president of global supply chain solutions, Ryder says. "Whiplash has built a proven model that meets today's consumers where, when, and how they choose to engage with brands—whether that's on-line from a mobile device or laptop, in-store, or a combination. We expect that our combined customers will benefit from that additional flexibility as well as Ryder's vast nationwide network, extensive technology suite, best-in-class warehouse management practices, and end-to-end transportation logistics solutions."
"This announcement signals a new accelerated phase of growth for Whiplash that will benefit our current customers and dramatically enhance our ability to scale and deliver innovation for digitally-native brands and omnichannel retailers," Jeff Wolpov, chief executive officer, Whiplash added. "Ryder's supply chain expertise, facility network, and last-mile transportation solutions are a perfect complement to the Whiplash e-commerce platform, and we're excited to be part of the Ryder team."