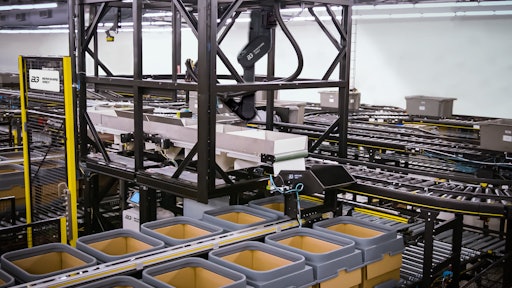 Berkshire Grey
Berkshire Grey, Inc. introduced its next-generation robotic product sortation (BG RPS) solution for order fulfillment. This high-capacity automation solution robotically picks, sorts and packs individual items into outbound order containers without the need for operator interaction.
"Our robotic product sortation (BG RPS) solution uses AI and machine learning software coupled with advanced machine vision, sensors, patented gripping technology and engineered material handling components to reimagine work for enterprises thriving in an on-demand world," says Tom Wagner, CEO at Berkshire Grey. "RPS is a proven solution that addresses some of the most labor-intensive processes our customers face in their fulfillment operations."
From Globe Newswire:
The latest version of BG

RPS

includes a host of new features, including a unique dual wing design that increases speed by over 25% and doubles the simultaneous order processing capacity.
BG

RPS

systems easily integrate into existing operations to process growing e-commerce and less-than-case order volumes to help fulfillment operations overcome labor scarcity issues.
This

RPS

solution is a fully integrated system powered by a core AI-enabled software platform that underpins all of

Berkshire Grey's

robotic automation solutions.