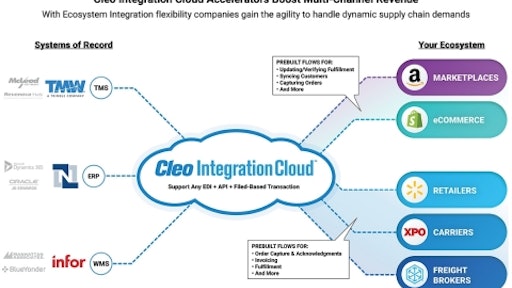 Cleo
Cleo developed Accelerators, a modern, comprehensive cloud integration platform that brings together end-to-end integration, business process automation and orchestration and real-time operational visibility across a company's multichannel ecosystem of API and EDI flows through e-commerce and marketplaces.
"Cleo is changing the integration game. We have taken decades of B2B domain experience, end-to-end business process knowledge and industry expertise and 'baked' these into Cleo's new Accelerators," says Mahesh Rajasekharan, president and CEO of Cleo. "This is so timely as, today more than ever before, businesses must get ahead of ever-changing customer behaviors and demands by meeting them where they shop and buy. I'm thrilled that Cleo is helping supply chain businesses by empowering an 'endless aisle' via seamless connectivity to e-commerce stores, marketplaces and traditional retail channels."
From BusinessWire:
Accelerators are out-of-the-box B2B integrations between a system of record, such as an enterprise resource planning (ERP) system, transportation management system (TMS) or warehouse management system (WMS) and an application or trading partner, retailer or customer.

Each Accelerator comes with prebuilt end-to-end business process logic for deploying common API and EDI-based supply chain integrations.

Businesses can use these Accelerators to speed time-to-revenue by quickly connecting to e-commerce stores, marketplaces or EDI-based trading partners and expanding their sales channels and new revenue.