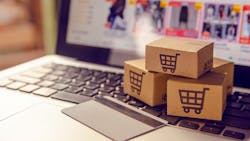 ©NaMaKuKi - Adobe.Stock
E-commerce has been an important term and concept in the retail industry for the last two decades, with continued growth since its inception. But, in just one year, the Coronavirus (COVID-19) pandemic pushed e-commerce dramatically forward in a short period of time just out of sheer necessity in a way never seen before.     
According to a survey from McKinsey, executives believe that the digitization of their customer and supply chain interactions and internal operations grew by 3-4 years in 2020, while digitally enabled products accelerated by seven years.
Supply & Demand Chain Executive developed an insightful white paper that details how the supply chain has adapted to the new-wave of e-commerce by rebuilding infrastructure throughout the entirety of the supply chain, including both logistics and warehousing.
In addition, The State of E-Commerce and Its Supply Chain white paper uncovers how top companies are adopting direct-to-consumer (DTC) strategies, allowing for a reduction in total supply chain costs and greater control and visibility over inventory levels.
By downloading this piece of premium content, supply chain professionals and executives can gleam insight into consumer-driven trends, the technology helping top companies adapt and the rise of e-commerce strategies that will change the supply chain as we know it.