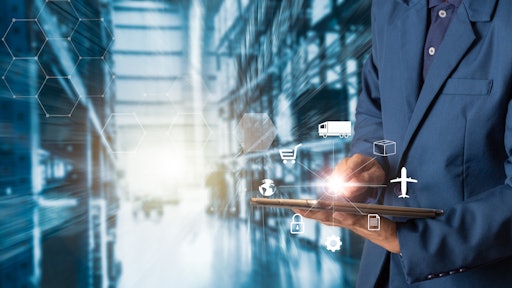 Getty Images
Cloud-based transportation platforms are the future for fleets of all sizes. But, what does that really mean, and how can you tell whether migrating to the cloud or using an on-premise solution is right for your transportation business?
Cloud-based solutions took off about a decade ago when subscription-based software-as-a-service (SaaS) models entered the scene. The adoption of these cloud-based solutions has also been driven by the continued rise of e-commerce. Even before the pandemic, e-commerce was growing rapidly, and the Coronavirus disease (COVID-19) added $105 billion to U.S. e-commerce in 2020 alone.
Unfortunately, all that e-commerce is putting strain on shippers and carriers who must meet high customer expectations for fast and on-time delivery. As a result, carriers must move even faster to keep pace with the demands of today's data-driven supply chains.
Benefits of cloud-based vs. on-premise
When it comes to deciding whether a cloud-based or on-premise platform is right for your business, the first major consideration is budget.
An on-premise solution requires significant upfront investment for in-house servers, hardware, cooling systems, software licenses, integration capabilities and IT employees to support and manage the system. On-premise solutions also require ongoing maintenance and the need to keep up with the latest changes in security and government regulations. On average, such a system is typically a 3- to 5-year investment on what are depreciating assets.
Cost savings is one reason the cloud is attractive to many organizations. Eliminating capital expenses for computers and other equipment can save companies significant amounts of money. So can reallocating internal IT resources that are required to run, maintain and support such equipment.
Another factor in determining whether to outsource your transportation management functions or manage them internally is company size. Generally speaking, cloud-based solutions, which require monthly payments, tend to be a good fit for small to medium businesses, as paying on a monthly basis helps control their costs and minimize overhead. Larger organizations may prefer on-premise solutions, as cloud-based solutions can sometimes be expensive for large enterprises and keeping it in-house helps them manage their costs. Many larger companies also prefer this model in order to have complete control of their network.
Is cloud right for your business?
If you are currently using an on-premise solution, the right time to consider shifting to the cloud is not when a problem occurs. Instead, it must be done with foresight so that you recognize inefficiencies between your operation's current functionality, in-house expertise, resources and your future needs.
If expansion is in your company's future, can your current space, IT system and employees handle the growth? If not, a cloud-based solution may be the answer.
Advantages of cloud-based transportation solutions
Cloud-based transportation management systems come with several advantages:
1. Quick and convenient access to information. Instead of having to communicate through servers or be in a physical office to access system data and tools, cloud-based solutions can connect to information from anywhere at any time—even a mobile phone in the middle of the night. This advantage is proving particularly important as the COVID-19 pandemic continues to affect transportation supply chains worldwide.
2. Information security. Security is always a concern, and it's understandable to worry about critical business information being in the cloud. Thanks to around-the-clock system monitoring and advancements in anti-virus and anti-malware technology, today's cloud-based solutions are very secure.
3. Easy updates. Cloud-based platforms enable IT infrastructures to scale with your business, not hold you back with updates, upfront capital expenses or expensive on-premise support. Outsourcing to a cloud provider provides access to technology and a team of IT professionals who are responsible for maintenance and software upgrades and who also bear the burden of hardware failures.
4. Reduced IT costs. Cloud-based software runs on state-of-the-art equipment, all managed by a team of IT professionals. This not only reduces the IT burden on in-house IT staff, but it also enables employees to focus on growing your core business.
5. Streamlined data backup and recovery. IT disruptions aren't just costly; they can be disastrous for your entire supply chain. Cloud-based systems can protect critical business data and minimize downtime in the event of a disruption.
6. Access to data. Perhaps the most compelling case for the cloud is the data. The connected supply chain is here to stay and the way to enhance and make the most of that connectivity is through analytics that provide insight into every aspect of your operations. Continually mining and assessing data not only streamlines processes, but it also optimizes your entire supply chain.
Trends in cloud-based solutions
As providers continually look to improve supply chain efficiencies, two trends are shaping transportation software -- containerization and microservices. Both of these trends are due to four factors: the growth of cloud computing, agile development processes, the need for virtual applications and the desire for enterprise architecture flexibility.
Containerization is a method of packaging code for cloud-based applications. Without getting too technical, this enables the ability to run applications more quickly and securely on any infrastructure.
In short, microservices (or microservices architecture) are a cloud-native architectural approach in which a single application is composed of many independently deployable smaller components or services. What that means is that applications can be updated more quickly to reduce the time and cost associated with having to re-code entire applications.
These trends point to a focus on more scalable, cost-effective and quickly deployable applications that can be modified to meet the needs of any company in the supply chain.
The connected supply chain is only going to get more complex and logistics organizations need to do a thorough cost/benefit analysis of their business and decide which solution makes the most sense, not just for their needs today but also in anticipation of their future ones, too.