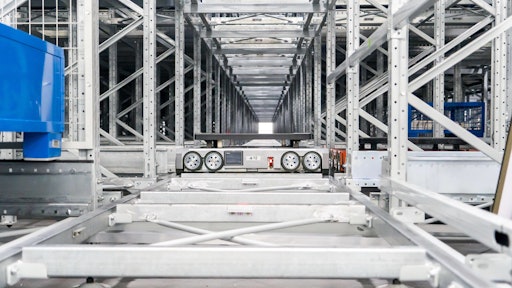 Geek+
Geek+ partnered with WSR Solutions to launch a new smart mixed case palletizing solution. This solution combines Geek+'s autonomous mobile robots and WSR's intelligent palletizing algorithm to help warehouse operators systematically handle the processing of multiple outbound orders.
"We are thrilled to work together with WSR Solutions to provide a tool that targets every aspect of the outbound logistics process, from how goods are stored and moved around the warehouse to how pallets are stacked, streamlining processes by eliminating the need for re-palletization and optimizing overall space utilization," says Lit Fung, VP of APAC, UK and the Americas at Geek+.
"Together with Geek+, we provide a full framework for the changing market requirements. Innovative mixed palletizing solutions that in effect serve one single goal -- to optimize the customer's supply chain with efficient, flexible and affordable automation solutions," adds Marcel van Schijndel, CEO of WSR Solutions.
From Geek+:
Based on real-time demand, Geek+ autonomous mobile robots optimize the movement of ordered goods between the storage area and picking station. At the picking station, WSR's intelligent algorithm supports warehouse operators to stack cases of varying weight, height, width and so on in an optimal way.
The solution has four key components – storage area, buffer area, case picking area and loading area.