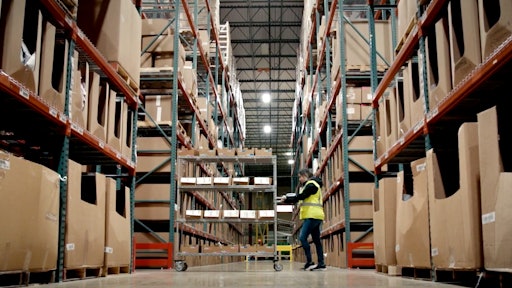 GEODIS in Americas
It's no secret that over the past several years, consumer shopping preferences have changed dramatically. These shifting buying patterns have only been exacerbated during the Coronavirus disease (COVID-19) pandemic, with a growing exodus from brick-and-mortar stores to online. As a result of today's omnichannel environment, we can now view the warehouse as the new retail store, as shopping is increasingly accessed by the click of a button. While previously, consumers went into physical stores to shop, now it is everywhere and shoppers can buy from anywhere.
In the past, brands developed their packaging strategies knowing their product would largely be picked, packed and shipped to retail stores as the final destination. Today, that's no longer the case. Given the rise in omnichannel shopping, the product could be packaged for shipment for a variety of end destinations, including a retail store, front porch, display case or locker.
With this in mind, and given today's e-commerce trends, it's vital brands consider how to optimize their packaging strategies in order to protect their desired product experience, refresh and move inventory, ensure sustainable operations, and ultimately, minimize costs to create a successful delivery process.
Determine your desired customer experience
When it comes to packaging, the first question a brand needs to ask is how it wants its product to look when it gets to the final point of delivery. For example, are you a high-end cosmetics company that relies heavily on the unboxing experience as part of your brand experience? Or are you a pet product manufacturer with a loyal customer base who may appreciate a simpler design without the need to break down excess packaging?
Packaging design studies allow brands to determine their best route forward by exploring three main areas -- the desired customer experience, cost to ship and type of labor required to package the product. As brands increasingly look to optimize their supply chains, packaging design studies provide the cost-benefit analysis to strike the proper balance between today's unboxing trend for e-commerce shoppers and the price of doing so efficiently. Incorporating ship testing into the design study can also help ensure the product remains intact upon arrival.
New packaging automation technologies, such as using robotics for filling, sealing and labeling as opposed to manual labor, makes it more attainable for brands to reduce costs and optimize efficiencies without compromising quality or appearance. Ultimately, the way a packaging flap folds or a label is placed can be the difference between an automated line or hand assembly. Packaging design studies, complemented by state-of-the-art 3D renderings, can offer brands an accurate visual of their options with how to automate aspects of each to minimize costs.
Ultimately, a company can find the most harmonious relationship between their desired product experience and packaging strategy by working with a third-party logistics (3PL) provider at the time it's establishing brand vision. This allows 3PLs to provide the best packaging strategy for both the product and the channel to which it will be delivered to reduce waste, maximize DIM weight and lower the cost to ship.
The packaging strategy for the e-commerce customer is not the only one to consider, though. For instance, how the product is initially packaged when it arrives at the warehouse determines how much inventory can be stored, and thus, how agile a brand can be in today's ever-changing omnichannel landscape. Creating a packaging strategy that is customized for each point along the supply chain—whether a warehouse or doorstep—is vital.
Consider personalized and customized offerings to move inventory
After developing a general packaging plan per shipment channel, a key factor to consider is how to utilize additional strategies like personalization and customization to incentivize and move inventory. This is especially critical for brands with products with short shelf lives or are largely dependent on trends (like apparel). Take the example of a social media influencer who unexpectedly posts about a brand's red sweater to its millions of followers. How, then, should a brand handle the lack of demand for the blue version of the sweater? Personalization and customization directly to the product and the packaging can help freshen goods so a retailer is able to relaunch inventory back into its website and move items quicker.
By storing ample inventory within the warehouse, this allows 3PLs the ability to take the onus off the brand to achieve this. For instance, this could mean personalizing the product through embroidery. Personalization and customization also come in the form of packaging strategies. As an example, a 3PL could brand the packaging with the customer's name to create a unique experience and increase demand. Today's digital printing technology now enables brands to reimagine their packaging design in both new and efficient ways. This trend is only expected to continue. In fact, the global digital printing packaging market is estimated to reach approximately $28 billion in revenue by 2024.
Ultimately, a brand's packaging strategy affects its ability to both incentivize demand and nimbly adapt to unexpected changes in consumer behavior to help move inventory.
Offer frustration-free, sustainable packaging
As e-commerce shopping has spiked during the COVID-19 pandemic, so has packaging waste, including everything from corrugated fiberboard to shrink wrap to air pillows. The Fiber Box Association reports that corrugated box shipments spiked 9% year over year. With the rise in e-commerce leading to more and more parcels on doorsteps, there is new urgency surrounding sustainable packaging. As an added layer, the responsibility to properly dispose of packaging now largely lies with consumers vs. retailers like in the past.
While there's no one-size-fits-all solution to sustainable packaging, it will be increasingly important that brands prioritize how to minimize the amount of materials needed to ensure the product is shipped safely while also meeting their brand requirements. A recent study found that 55% of U.S. respondents are extremely or very concerned about the environmental impact of their product packaging. This means brands can both do good by adopting sustainable packaging methods as well as appeal to a growing eco-conscious audience.
As a solution in the future, expect highly automated micro-fulfillment centers where consumers can both pick up their packaging and recycle it on-site with necessary resources like shredders. Micro-fulfillment centers would lead to environmental packaging benefits by allowing brands to ship items in bulk and reduce individual shipments to consumers.
Today's trend also entail 3PL warehousing and distribution centers transforming into the new retail store. For brands, this means understanding how to optimize custom packaging strategies to improve the delivery process will be increasingly popular as e-commerce trends continue.
Brands must align their packaging strategy with their brand vision from the get-go, rather than treating it as an afterthought, to best ensure they are protecting their product experience, optimizing inventory and creating sustainable operations for the future. By partnering with a trusted 3PL provider, brands can receive the unmatched value of its complete scope of services, including packaging and design strategies, to ultimately create a more successful delivery.