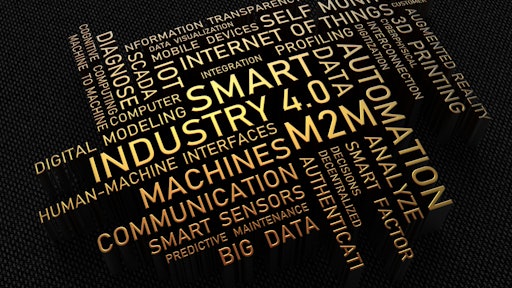 Сake78/stock.adobe.com
The Fourth Industrial Revolution is the core of the modern enterprise. Today's businesses move faster than ever, thanks to innovative technologies like the Internet of Things (IoT), 5G and robotics, but it also comes with complex supply chain and operational needs.
Industry 4.0 came right before the coronavirus pandemic forced global lockdowns and changed how we do business for years. The global supply crisis that followed illustrated the need for optimized workflows and automation throughout manufacturing and logistics processes. Modern technologies provide cost savings, better efficiency and higher production and quality while reducing energy usage.
These factors will prove pivotal in helping businesses survive the pending recession by staying agile and competitive while sustaining growth.
However, it's not as easy as throwing technology at the problem; disparate systems with siloed data must be broken down to bring the front and back offices together seamlessly. This is the key to building for the future —using modern tools to resolve traditional problems.
Breaking Data Siloes
Data siloes are the biggest problem in traditional supply chains. As the business scales operations and obtains new hardware and software, it can end up with disparate data spread across many disconnected platforms. Lack of integration makes it difficult to track inventory across workflows and perform any meaningful forecasting.
This setup leaves different business units unaware of what everyone else is doing within the organization. It could potentially give your rivals a competitive edge since they can react faster to market changes. Not only do you lose visibility, but operational inefficiencies waste time, money, electricity and labor.
Industry 4.0 resolves this by leveraging cloud technologies, automation, digital twins and more to bridge the gaps in traditional enterprise operations. This provides three main benefits:
Smarter Decision Making

—Modern technology makes manufacturing and logistics smarter. It provides continuous data collection and analytics for deeper and more meaningful insights. Using intelligent products increases how smart your entire business becomes, and everyone from utilities and automotive to CPG can make better decisions.

Streamlined Operations

—Tools like IoT,

digital twins and robotics make it easier for human workers to accomplish more. They increase workflow efficiency and capacity while decreasing costs and automating mundane work to focus on more high-level tasks. Not only that, but you gain the power of predictive maintenance and scheduling downtimes.

Scalable Business

—Updating technology increases income across a diverse range of companies. Whether it's adding a useful sensor to a household appliance or increasing uptime leveraging artificial intelligence (AI), businesses are finding new revenue streams and increasing existing ones using advanced data analytics.
Of course, not everyone knows to focus on research and development. It's not always easy to understand the market and know which solutions could help your specific business needs; you may not even know what you need yet.
There are three ways to build an Industry 4.0 strategy:
1. Rethink Enterprise Architecture
Traditional enterprise architecture is often a piecemeal approach. As a company scales, it acquires other businesses — along with their technology — and it often takes a long time to get them to play nicely with each other. Success in Industry 4.0 requires reevaluating these disparate systems and finding ways to integrate them for a streamlined workflow that can be tracked from start to finish in one place.
2. Focus on Smart Digital Intelligent Methodology/Framework
SDI stands for smart, digital and intelligent, and it is how enterprises can build cognitive-based systems. It means taking control of data to unify it and provide real-time information across the business. This transforms the enterprise into an insight-driven organization with connected assets in a resilient infrastructure. An SDI framework is the foundation from which you can pivot to new business models (and more).
3. Start Right Now
What's most important is understanding we are already in the middle of this Fourth Industrial Revolution. Industry 4.0 is upon us, and your business needs to quickly strategize and acquire the necessary tools to stay ahead of the curve. Otherwise, you will lose your competitive edge and market share that you may never regain.
Industry 4.0 makes businesses smarter, faster and more agile. It disrupts the old way of doing things to make it more efficient with fewer errors. Do you have the right technologies in your arsenal?