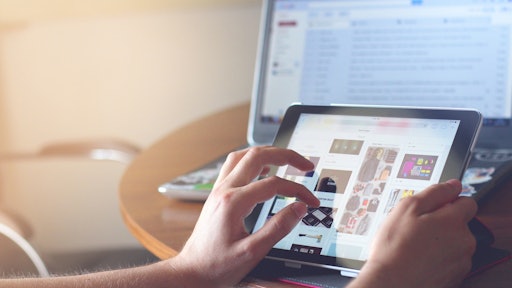 Pexels
Technology put its mark on the supply chain throughout the past 20 years, which has been heavily documented throughout Supply and Demand Chain Executive's lifespan. But isn't nearly finished. For the next two decades, technology, among a variety of other factors including the Coronavirus (COVID-19) pandemic, will continue to mold and shape the way the supply chain operates.
Machine learning, artificial intelligence, data, blockchain, shifting economies and environmental impacts will cause the ebbs and flows in the global supply chain, possibly creating a future much different than the one we currently know.
"The supply chain of the future will implement technology to its furthest extent," says Mark Burstein, president of NGC. "Right now, the most advanced companies are managing supply chains digitally, leveraging AI, machine learning and blockchain technologies to respond in real-time to shifts in inventory supply and demand, fluctuations in the economy, and regional political and climate events. In the future, the supply chain will instantly react and adjust based on current and anticipated situations, thereby creating an extremely efficient global network of suppliers, producers, distributors and retailers."
Since changes in technology now come rapidly, increasing in speed, the supply chain changes accordingly. Like any other industry, the supply chain will advance at a much faster rate than the past 20 years as the speed of technology innovation and adoption does too.
"One thing is certain, the next 20 years changes in supply chains will move much faster than the last," says Patty McDonald, global solution marketing director, Symphony RetailAI. "Speed is key and adapting to change quickly is essential for retailers to survive. The supply chain has experienced much disruption and change over the last 20 years, and perhaps one of the biggest events is the recent COVID-19 impacts on supply chain. It's changed the context for supply chains and has sparked the yearning for quicker process adoption and technology to fuel efficiency and agility."
Phygital future
Need for visibility within the supply chain continues to dominate partners' values at this time, which pushes third-party logistics, warehousing and other supply chain companies to increase their technology offerings to better serve this need for real-time traceability. The higher number of companies adopt to advanced visibility features, the more other companies will adopt as well to stay on top of customer demand and competition. This means that the future of supply chains will see an extremely sophisticated visibility system. Especially since retailers and brands that consumers interact with will increase their front facing digital offerings and visibility for customers in a "phygital" landscape.
"The phygital landscape pushes retailers to deploy end-to-end visibility to deliver products as quickly as possible in order to optimize inventory turns and profitability by channel and location," Burstein continues. "Supply chains need the flexibility, agility and speed to live up to customers' desires, which is why digital transformation is necessary in a retail supply chain ecosystem. The latest generation of digital supply chain platforms integrates all supply chain information into a single platform, then uses AI for scenario analysis, demand sensing, automated decision-making, and execution."
Omnichannel aspects of retail will continue to advance, pushed by consumer demands, who do not and will not settle for an experience that does not fit into their expectations. This only impacts the supply chain further going forward.
"Convergence in all forms is intensifying and supply chains are starting to adapt to this," adds McDonald. "The blend of physical and digital no doubt recently experienced massive conflicts. Online and physical realms are changing and there are predictions for increases over the next three years for upward swings of 20% in online. This is just part of retailers' adaption strategy and a key piece to become as agile as possible. Having solutions in place to connect disparate processes will be essential for this space. For example: How can you fulfill online customer orders without understanding at the start the demand from all of your different channels and how that will influence the entire supply chain through fulfillment. Fulfillment that must be accurate down to the exact time of day and varying fulfillment locations (store, dark store, BOPIS, locker etc). This part of supply chain is very exciting and the consumer is truly driving it."
Pandemic influence
Throughout the past few years, retailers and brands embraced omnichannel offerings but the COVID-19 pandemic brought new phygital contributions very quickly. The need to stay distant from customers, while at the same time the supply chain was stressed almost to its maximum, pushed 3PLs, manufacturers and retailers alike to adopt new technology offerings, speeding up the process of adoption. Unfortunately, while many companies took on cutting edge processes, others were unable to stay on top during the pandemic and shutdown.
"Many suppliers have ceased operations and will never reopen," says Burnstein. "And many survivors will not have the credit to fund large customer orders and receive payment sixty days after delivery like they did pre-COVID. So, the brands and retailers that want new product will need to pre-pay for a portion of their orders, put money in escrow, or open an L/C to guarantee payment upon delivery.
"For the companies that have embarked on their digital transformation journey, the future is bright. They will utilize emerging technologies such as artificial intelligence, blockchain and IoT to make and execute decisions much, much faster. Their product lines will be developed in days, not months. Their sourcing decisions will take hours, not weeks. They will position materials and wait until the last minute to decide which products to make, where to make them and how to distribute them.
"The companies that digitize their supply chains will do a much better job of fulfilling demand, increasing customer satisfaction and maximizing revenue and profit," he adds.
Beyond technological results from COVID-19, the pandemic also exposed holes in the supply chain and may push many to change the way they handle operations. Retailers and brands are taking a closer look at their supply chains and assessing how to best move forward to prevent any disruptions that were caused these past few months.
"During the pandemic, companies with a holistic view of their supply chain were assessing, understanding, and mitigating risks much faster," McDonald says. "Even with good holistic tools and processes in place, the disruption was so extreme that retailers were forced to adapt in new and different ways to manage supply chains and get product on shelves. This massive shakeup in our world has sparked retailers to consider not only how they respond to disruption from a process perspective, but also to become creative, competitive companies that retain loyal shoppers – even under the most challenging circumstances. They want to be resilient. So many of them were 10000% absorbed in the COVID issues confronting them daily and are now taking a step back to better plan. It's a beautiful thing that out of the painful disruption retailers are taking more critical thought to plan for a resilient future.
"One thing is for sure, Supply Chain now has a front seat in organizations," she says. "Many years ago, supply chains struggled to get recognition and support in organizations. It's different now. They are an essential part of companies' go-to-market strategies. There will never be a state of normalcy though. The Supply Chain industry lives in a state of disruption, but is perpetually become more agile and resilient."
As companies garner more data and better determine pain points in the system in addition to the overall insight that machine learning provides, the industry will continue to evolve at a fast pace. Outside factors like the economy, political climates, pandemics and more will also have a hand in shaping the supply chain. In 20 years, the sector will look much different than it does today, just like the supply chain 20 years ago looks far off than it does in 2020.