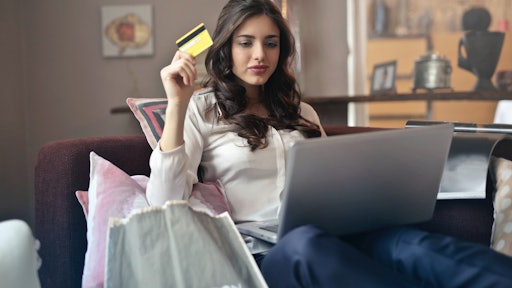 Andrea Piacquadio from Pexels
Digital innovation has touched almost every aspect of personal, commercial and business life since the invention of the internet. In 20 years, the expansion of e-commerce pushed a new way of shopping, and thoroughly changed the supply chain and logistics process. To celebrate 20 years of Supply and Demand Chain Executive magazine, here's a look back at how e-commerce has impacted this sector throughout the last two decades.
Throughout this time, consumers' expectations on delivery times, availability and the types of products they look to buy online put pressure on brands and retailers to take a new operational approach in a multitude of ways. The growth of small packaging and how to transport the packages is one theme that has dramatically shifted the supply chain since 2000.
Scott Dunnington, director of client services at Open Sky Group, explains that when SDCE first started, so too was small package delivery. More frequent but smaller shipments became sought after and supply chains shifted to less-than-load (LTL) shipping.
"Since then, e-commerce has taken that trend and multiplied it, literally exponentially," says Dunnington. "Now the traditional delivery channels just didn't work. It is much more difficult to supply 1,000 product orders with two lines each than a single 2,000-line order. Through 2015 or so, companies built dedicated e-commerce fulfillment centers, with inventories often completely separate from other channels. Retailers would have store distribution warehouses and e-commerce dedicated warehouses, often under different leadership structures and working at cross-purposes! Since the early 2010s, more companies are trying to achieve order-anywhere, fulfill-from-anywhere."
With major retailers such as Amazon, Kohl's, Walmart and Target creating new ways of shopping to allow customers to receive products whenever, wherever and however they like, other retailers look to join and find efficient ways to do so despite the challenges.
"Clearly Amazon is the largest disruptor here and retailers are trying to fight back," continues Dunnington. "This is hard, though, as it is much more efficient to fulfill from a warehouse when you can pick numerous orders at once, than in a store where the walk is greater for fewer orders. Time will tell how it all plays out, but one trend from all of this is for warehousing to become multi-channel with wholesale, e-commerce, club-outlet, subscription, etc. All fulfilled from the same facility. Transportation is obviously affected, as both how product moves between facilities and the last-mile delivery have changed dramatically to support this new model. Product returns and the associated reverse logistics are also much different in the high-order-count world where product is returned directly to the shipper instead of to stores for collection and return to the warehouse."
Moving offshore
In addition to small packaging, companies began to move part of their businesses offshore, accepting whoever was the cheapest bidder no matter the country in a race to support growing consumer demands. Technology helped move operations offshore, as it became easier to communicate and partner with others overseas.
"The evolution of e-commerce in the past two decades has dramatically changed, especially the expectations of people today to have the 'Amazon experience' in any type of e-commerce interaction. This could mean customer facing, supply chain & procurement, or any other form of technology that enables supply chain efficiencies," says Traci L. Nichols, vice president of procurement transformation and automation at Beltrees. "This is driven by the abundance of data and the ability to process that data.
"The increase in data visibility and tracking technology (like RFID) has allowed for advancement in inventory management from methods like Kanban and supplier managed inventory to evolve and become even more precise. Companies don't have to guess when a shipment is arriving and hope to be right within a couple of days. They can now see which lot their shipment is in and how many stops before it reaches their location," Nichols adds.
"All of this technology coincided with the globalization of business, which amplified the results of both," she continues. "Globalization and the use of [low-cost country sourcing] was sped up due to the comfort companies had in mitigating the perceived risks of doing business halfway around the world. Improvements in technology occurred since workforces were truly global, allowing more skilled workers to drive those improvements."
Since so much of the world's products comes from far away in a long supply chain, it became difficult to know where most items originated. This caused consumers to swing the other way and now look for more transparency in their products, which highly affects the supply chain. When it comes to visibility now, it is not just that partner companies want to know exactly where their shipments are, but they also need to keep track of everything that goes into that product, down to the material sourcing. This level of visibility is noticeable in online product pages, says Angela Fernandez, vice president of community engagement at GS1 US.
"Within the span of 20 years, there have been two drivers of e-commerce evolution: increased investments in digital technology and consumer-centric strategies," she says. "Core to both of these drivers is data accuracy and completeness, which is critical to delivering on the promise to the consumer and is starting to be seen as a strategic asset to enhance customer experiences.
"For example, think about what an online product listing used to look like in 2000 vs. what it looks like now. You are likely to see images of a product from every angle now, as well as access extensive information about a specific product--is it washable? Is it hypoallergenic? What are its specific weights and dimensions? Supply chain as an industry has grown and changed in a positive way to reorient itself to make product details that were typically exchange between trading partners visible and accessible for conscientious consumers who can't see or feel the product directly," Fernandez adds.
Technologies such as blockchain, barcoding and radio frequency identification (RFID) can help this.
Listen to our podcast on off-shore operations here:

Growing e-commerce
In the past few months, the Coronavirus (COVID-19) pandemic pushed online commerce and ordering even further, forcing retailers to adapt to embrace digital even more so to keep staff and customers safe. This includes the use of applications and online ordering for contactless purchasing. The more retailers adapt this form of technology, the more comfortable consumers will become with it, pushing e-commerce and last-mile delivery even further. To stay on top, all companies in the supply chain need to embrace data to effectively plan and streamline operations.
"The past three months of social distancing has also shown us how reliant on e-commerce we have become to acquire the goods we need, and the remaining challenges such as supply chain visibility that are still present," says Fernandez. "To fully excel at providing shoppers with accurate deliveries, retailers have been increasing their collaboration with trading partners and focusing in on the quality of product information they make available to consumers," she adds. "With the need for more consumable and extended data, brands and retailers have worked to transform the inefficient, time-consuming and often manual data management processes, and automate traditional operations to better anticipate what consumers want. There is more work to be done, especially as social distancing will continue to influence e-commerce growth. But retail companies could risk being bogged down with costly returns if consumers find the product delivered is nothing like its online representation--leveraging a standards-based framework for data will continue to be essential."
Consumer demands and problems caused from COVID-19 could urge companies to reshore some of their operations, but the damage done to the economy may lead them to pushing in the opposite direction to continue to save money. The pandemic has created a very different and unforeseeable future in the supply chain.
Visibility will likely continue to grow, as with online retail in addition to the technology that carries these portals.