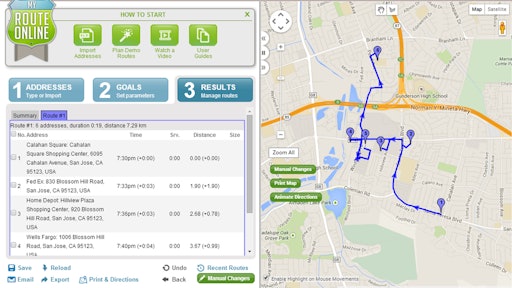 Fast response time is the foundation of service businesses. Technology has improved the ability of many companies to meet increasing customer expectations. One such technology is online route optimization software.
While apps like Google Maps or MapQuest can cope with a few stops, companies like MyRouteOnline.com have served small and medium-sized business for years by creating efficient routes optimized by time or distance to get the fastest or shortest route—helping even small businesses find an affordable way to streamline trips.
But some companies need more. Stratosphere Quality LLC is a quality assurance service company that needed to streamline multi-day, extended trips for its employees. Routes typically include 15-20 stops, and employees complete these routes over several days.
Using MyRouteOnline.com, Stratosphere employees can input the route addresses, select the number of work hours per day and get an overnight route that covers several days. The next day starts where the previous day ended. MyRouteOnline.com's planning tools also allow adding hotels on the way.
Faster Response Times
That's a time-saver for Stratsophere, whose employees regularly hit the road on nationwide projects that may include multiple locations across the United States.
And it helps the company meet its customers' expectations for a quick response time.
In the manufacturing business, downtime means lost revenue. So, when a quality assurance problem comes up that delays or halts production, response time is everything.
Stratosphere is on call 24/7 and maintains a large geographic footprint, so they can quickly respond to customers when they need help. And the company prides itself on its two- to 48-hour response time, depending on the client's location. When a client calls, Stratosphere employees head to the site ASAP.
Flexibility
The flexibility of online route planning paid off quickly for the company, which creates as many as 100 routes per month—often in geographic locations that their employees aren't familiar with.
"A project with 350 locations or less saves us 6-10 hours," explains Taylor Giacone, Stratosphere Quality sales analyst. "A project with 1700+ locations saves 16-32 hours."
And while the time savings are significant to Stratosphere, it also gets passed along to their clients, who reap the benefits of the fast response time and the quicker completion time.
The teams use mobile phones or GPS to follow the MyRouteOnline.com route. The MyRoute app by MyRouteOnline is an easy-to-use navigation assistant for Android, iPhone, Tablets, iPads and Windows Phone. The app helps the company to reduce distracted driving and improve safety—two important ways to prevent travel accidents and reduce related costs as well as improve customer service.
Previously, Stratosphere employees were manually entering addresses into MapQuest or Google Maps to create routes. But these routes would have to change several times because of the limited number of stops allowed by these software programs.
And that's time wasted when you need to get to a client's location quickly.
"MyRouteOnline.com has helped us when we have teams traveling outside of our footprint and do not have a local presence," Taylor says. "We now are more efficient and are able to plan out our operations more effectively."