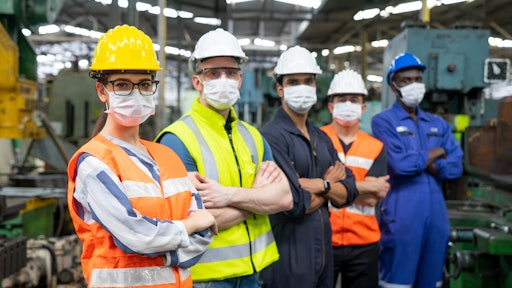 godji10 - Adobe Stock -
Supply chain issues have crippled global businesses large and small this past year, and the impact on both organizations and the end customers they serve has never hit closer to home than it does today.
Everything from global political tension to legacy factory networks and complex distribution centers plays a role in these ongoing challenges, which have shined a light on the fragility of the worldwide supply chain. Some of these issues have and will always be there, while some have been slowly creeping to the forefront, bringing us to where we are now – with worldwide product shortages, a frustrated workforce and unhappy customers.
This supply chain fragility has been compounded by the Great Resignation – with record-breaking 4.2 million U.S. workers quitting their jobs in October alone, according to the Bureau of Labor Statistics, and a lack of interest in manufacturing careers. Deloitte and The Manufacturing Institute estimated that 2.1 million manufacturing jobs will be unfilled through 2030. Regarding the top reasons these positions tend to go unfilled, 38% cited new entrants having different expectations for jobs and careers, followed by 36% having a lack of attraction or interest in the industry.
When we feel the impact of the extreme backlogs at ports, it's essential to understand that workforce challenges are part of the root cause – a reason parts and products are stranded on container ships rather than in homes, and it's time to address those challenges.
Manufacturing misperceptions and the skills gap
The jobs that make manufacturing factories run and transport products from Point A to Point B are vital to keeping the world running. From line managers to truck drivers, everyone plays a crucial role within the supply chain. However, the manufacturing sector is facing a major image problem, with many perceiving these roles as monotonous and with no opportunity for advancement.
It's not just open, hard-to-fill positions that are an issue; many jobs require technical training, applied skills or specific licensing and certifications, especially as the industry continues to adopt modern technology and focuses on digital transformation. The skillset needed today is simply different than it was 10, even five, years ago.
The path forward
There's good news amidst these challenges -- steps to take and solutions to adopt can help overcome the labor shortage, upskill workers, and ultimately create a more stable supply chain.
1. Invest in employees. Though many manufacturing jobs over the last few decades have involved completing the same task repeatedly, with little to no career longevity, that's not the case now. Today, manufacturing roles offer career growth and stability, much like they once did a century ago. The industry is shifting from redundant, manual tasks to more fulfilling work supporting today's modern manufacturing methods. Many companies are providing upskilling or reskilling programs to invest in their people and in these roles to create the employees of tomorrow.
2. Embrace new technology. Going hand-in-hand with prioritizing employees, manufacturing companies need to invest in intelligent automation and new technology.
Traditional, hardware-centric manufacturing is outdated, slow and devoid of data that's needed to uncover insights for improvements. Now more than ever, manufacturers need to modernize their operations by adopting intelligent, full-stack automation that takes over mundane tasks and provides the insights and capabilities to quickly scale up or down production based on changing consumer buying habits to achieve efficiency.
Those who digitize their operations and embrace cutting-edge technology will achieve new levels of productivity and performance, and they'll gain a distinct advantage in an increasingly competitive market.
3. Move production closer to home. Building smart factories closer to home and localizing physical product production will help mitigate the risks of a global supply chain.
Click here to hear about near-shoring in the supply chain:
Overseas production in certain countries such as Vietnam, for example, has slowed or stopped altogether as COVID-19 cases spiked this fall; there's also been a partial shutdown in China, which has caused an extreme backlog in container movement. This is why 75% of manufacturers plan to accelerate their reshoring initiatives and bring production and sourcing closer to their end-customer.
When organizations move production from low to higher labor cost regions like the United States, intelligent automation becomes increasingly important. It provides mass customization and consistent quality within a factory, which significantly stabilizes rising labor costs. Companies that run smart factory initiatives have seen a 10% increase on average in production output and a 12% increase in labor productivity as well.
Finally, those who invest in reskilling initiatives also ensure that the workforce is ready and able to take on the new tools and technologies within their smart factories, so everything runs smoothly and efficiently from day one.
The challenges businesses face today can feel overbearing and impossible to tackle, but there is a path forward. The most straightforward solution – the one that will help to create supply chain resiliency – is the one that puts people first and innovative technology at its core.