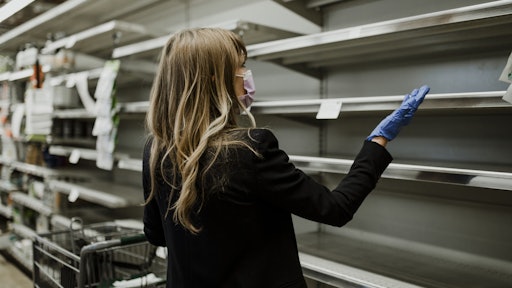 rawpixel.com Adobe Stock
Ask any retailer what is top of mind for them, and the answer might be "everything." A long list of variables contributes to this holiday season being one that doesn't quite compare to any prior. The ongoing labor shortage, the record surge in retail-specific job openings, the traffic jams of container ships outside major ports and concerns of product availability – each of these realities on their own are enough to keep retailers awake at night, worried about their strategic next steps.
In the face of so many compounding factors and troublesome gaps in the workforce, many retailers are at a loss for how to even think about driving efficiency in the chaotic supply chain. Even so, there are steps to be taken today to start asserting the control they feel they don't currently have.
Assessing the impact of labor shortages, both at the store and before
The severity and persistence of disruptions mean that many are becoming aware of the magnitude and complexity of the supply chain for the first time. The average shopper who doesn't live and breathe logistics or retail operations has gained a new appreciation for every step of the journey a product takes from manufacturer to shelf.
What the shopper experiences in store because of labor shortages could be fewer cashiers and longer checkout lines, untidy stores and perhaps a decline in customer service overall. But, more than likely the most painful evidence of staffing issues is spotty product availability and out-of-stocks. The worst possible feeling is knowing you've lost a potential sale when you actually had the product in store, 25 feet away behind the swinging door to the back room. That sale is lost and the customer leaves unhappy – perhaps for good – all because a store associate wasn't available nor aware of the issue to jump into action and restock.
Retailers are also affected by labor shortages farther upstream in the supply chain. Ships are idling with retail inventory stuck offshore, and even when they make it into port to unload, there aren't enough dockworkers, trucks, trailers or drivers waiting in the wings to keep the merchandise moving. This necessitates carefully placed bets on retailers' parts, prioritizing the products most important to them, working frantically to get them on the road as soon as possible to their warehouses and distribution centers and ultimately to the store. Today's reality, though, is that any retailer is only going to get a subset of everything they want.
Extending visibility, collaborating and measuring lead-time volatility will help fill the gaps
The supply chain and the workforce are intricately interdependent. With this in mind, there are a few best practices you can start to apply in the near term to gain a measure of flexibility when things feel out of control.
To the extent that you can, build in structure that extends visibility outside your network. After all, if your visibility ends at the point where an order is placed with a supplier, all you can do is hope the committed lead time will be met. And, that's not saying much – current lead times are erratic. A standard or historical lead time can't be counted on. So, how can that visibility be extended? Simply stated, by fostering systemic supplier collaboration. In building those relationships and leveraging advanced technology to work together more closely, you'll come to quickly understand when lead times are going to be in flex and by how much. The more you know, the more informed and agile you can be in making in-flight decisions.
Then, using real-time insights – especially those driven by artificial intelligence (AI) that leverage what-if scenario analyses – you can pivot by pulling an item or substitutable equivalents from other sources, or reallocating resources (people, warehouse space) accordingly. This collaboration also helps to eliminate wasted cycles anticipating product that doesn't arrive as planned.
In addition to visibility and collaboration, you can leverage metrics on the volatility in supplier service levels over time. The resulting insights provide a clearer picture of risk with a particular supplier and how likely it is that they'll be unable to meet those "on-time-and-in-full" obligations. You can't mitigate risk if you can't measure and anticipate it, so it's critical to put processes in place to measure volatility, especially in times of uncertainty.
Managing the supply chain most effectively requires extra help from technology
Current issues in the supply chain are expected to continue long into 2022, and the labor shortage isn't a quick fix either. With best practices in motion, you must also gain new demand forecasting capabilities as an input into a smooth demand planning process. It will be critical moving forward – you can't make good choices related to supply chain processes and the procurement of product unless you have good information about what products you're going to need.
Machine learning and AI can analyze data and find patterns in demand that humans can't as easily detect. When those advanced capabilities are then integrated into other areas of the supply chain beyond demand forecasting – allocation and replenishment, inventory management and order fulfillment – true end-to-end efficiencies can be gained, all the way through to other store-level operations. When employees feel they have processes in place and technology to help them do their jobs more efficiently, that will contribute to feelings of ownership and success that lead to improved retention, too, which is important for sustaining supply chain resilience.