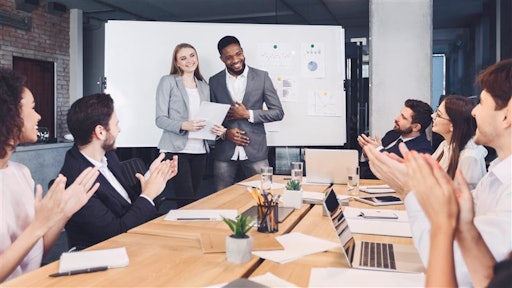 Prostock-studio-
Challenges like the Suez Canal crisis, port closures and other delays in inbound shipping, all spurred by the pandemic, resulted in significant supply chain disruptions. In a U.S. Census Small Business Pulse survey earlier this year, 36% of small businesses reported delays with domestic suppliers also. The world relied on successful supply chain programs during the pandemic, and the industry needs innovative thinkers and diverse leadership for organizations to overcome the obstacles we have seen the sector struggle with over the past year.
Why women should pursue roles in supply chain
While diversity, equity and inclusion initiatives have been top of mind for organizations across industries, according to Gartner, women make up only 17% of chief supply chain officers (CSCOs) and less than 40% of the total supply chain workforce.
While often perceived as a male-centric profession, supply chain and logistics roles are perfect for any woman looking to leverage their interpersonal skills and enter a workforce with immense career growth. Talents such as collaboration, decision making, problem solving and multitasking are all crucial in the success of leaders and supply chain programs.
Often, decisions must be made with imperfect information and these essential skills prepare leaders for unexpected challenges and agile execution in sometimes challenging environments. A great example is the variability in demand forecasts as retailers determine the balance of sales between stores and e-commerce. Given the uncertainty, scenario planning is necessary to adapt seamlessly each day. This is a skill women develop early in their career as they often juggle work, school and family demands.
According to a recent survey from the Association of Supply Chain Management, 88% of respondents had a positive outlook on their career. From entry level to the C-suite, the supply chain industry has opportunities for individuals at every stage in their profession. Women early in their career can learn more about the industry at fulfillment centers where packing and shipments are happening in real time, or more experienced leaders can partner with executives on logistics strategy and outcomes.
Click here to hear more about women in the supply chain:
Ways businesses can support female development in supply chain
Training and development are essential to retain and grow women in the supply chain sector. It's important to identify women and other diverse candidates with potential and be intentional about providing opportunities for stretch assignments and growth experiences. For example, giving a fulfillment employee the experience to learn more about financials or to work on a special project to improve efficiency helps equip them for leadership roles and promotions.
Additionally, mentorship and education play a large role in changing women's perception of a career in supply chain. It's important that younger generations see successful women in logistics roles that challenge traditional, outdated gender norms. Current female leaders in the supply chain industry should be engaging in conversations about their experience in the industry and encourage others to pursue opportunities in the sector. Participating in industry events and discussing challenges and opportunities for women in the industry, sharing activity and starting conversations on social as well as joining communities and networks focused on connecting and supporting women executive leaders.
Successful supply chain programs have female representation
The supply chain industry needs more innovative thinkers and strong leaders that come to the table with creative ideas. The challenges faced by logistics organizations as the pandemic continues only highlight how important problem solving and decision-making skills are during the current crisis.
During challenging times, it is essential to have diversity in thought to overcome obstacles some of which have not been seen by the industry before. Problems this past year including shortage of shipping containers and the availability of labor, need great minds to bring creative solutions. Prioritizing the hiring of people from different backgrounds and embracing different races, genders and sexual orientation will only lead to business success.
Diversity should be a core element of an organization's business strategy and gender inclusivity is essential to training and development. Female leadership resonates with teams and clients because diversity creates stronger collaboration, creativity and a more positive workplace environment.
What's next?
The past year has accelerated the shift to e-commerce and there is a challenge for people to do things differently and to adapt quickly. The time for change is now and women leaders are at the forefront of supply chain success.
The evolution of e-commerce retail has provided a multitude of opportunities where diverse candidates across multiple corresponding industries, including supply chain, where they can showcase their leadership and interpersonal talents in an industry that encourages training and ongoing career growth. Engaging in conversations that challenge the traditional stereotypes of supply chain careers is essential for progress towards closing the gender gap for women in the industry.