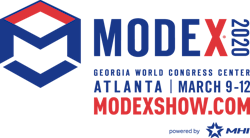 The largest manufacturing and supply chain expo of 2020, MODEX, opens on March 9, containing 950 exhibits from leading solution providers and a comprehensive educational conference of over 150 sessions focusing on best-in-class solutions for manufacturing and supply chain operations. MODEX 2020 exhibits will represent all segments of the material handling, logistics and transportation industry, from traditional, manual equipment to automated/robotics systems and digital supply chain technologies.
The conference will include four keynotes on topics ranging from the Internet of Things, emerging technology and transportation and logistics solutions. Conference sessions will cover leading trends, best practices and state-of-the-art equipment and technology solutions that can make manufacturing and the entire supply chain work more efficiently and profitably.
Keynotes are as follows:
March 9 Keynote: A Conversation with Ambassador Nikki Haley: Nikki Haley, U.S. Ambassador to the United Nations (2017-2019)
March 10 Keynote: The Neurogeneration – The Future is Closer Than You Think: Tan Le, Founder and CEO of EMOTIV
March 11 Keynote Panel: Preview of MHI 2020 Annual Industry Report - Embracing the Digital Mindset: Connecting Data, Talent and Technology in Digital Supply Chains: George W. Prest, CEO, MHI and Thomas Boykin, Supply Chain Specialist Leader, Deloitte Consulting LLP
March 11 Keynote: A Conversation with Peyton and Archie Manning: Peyton Manning, Super Bowl-Winning Quarterback & NFL MVP and Archie Manning, All-American Quarterback and NFL Icon
"MHI has expanded the educational and networking offerings at MODEX 2020 to provide attendees with the best possible show experience and to connect them with the information and tools they need to tackle the challenges of today's business environment," says George Prest, CEO of MHI. "MODEX brings the industry together to showcase the latest solutions for future manufacturing and supply chain challenges."
Modex also has various offerings to attendees as well, such as:
March 11: MHI Industry Night with Hasan MinhajMODEX will feature an evening of music, food, drinks and entertainment by comedian Hasan Minhaj on Wednesday, March 11. Tickets to this event are $50 and include beer, wine and hors d'oeuvres. The door prize for this event will be a trip of a lifetime vacation. Trip Value: $30,000. See official rules.
Women in the Supply Chain Industry Forum on March 9 at MODEXMHI has partnered with Material Handling Equipment Distributors Association to bring an afternoon of discussion, education and networking for women in our industry.
MHI Young Professionals Network Reception on March 9 at MODEX
MODEX is the largest manufacturing and supply chain expo held in North America and South America. The event will be held March 9-12, 2020 at Atlanta's Georgia World Congress Center.
Attendee registration for MODEX is offered at no cost. For more information on exhibiting or attending MODEX, visit MODEXShow.com.