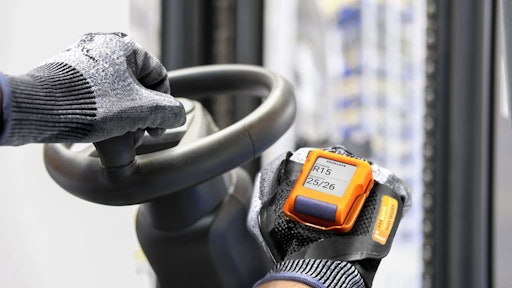 ProGlove
ProGlove, the leader in ergonomic wearables for industry, announces at MODEX 2020 the MARK Display wearable scanner and the ProGlove Cloud analytics solution for industry.
MARK Display brings essential information right where front line workers in the supply chain need it most: the back of the hand. MARK Display untethers workers from paper, handheld devices and static workstations while keeping crucial information with workers at all times.
The ample display on ProGlove's matchbox-sized multifunctional scanner makes it easy and effortless for employees to obtain important information needed to complete their assignments quickly and with fewer errors. The newest member of the durable MARK family of wearable scanners is optimized for businesses building future-proof supply chain processes and creating a well-equipped workforce.
Along with the high contrast, non-reflective display, MARK Display's acoustic and haptic feedback guides workers through their processes, saving up to six seconds per scan and reducing error rates by up to 33%.
MARK Display is IT-friendly, BLE-enabled, and cloud-connected and allows customers to see immediate results across the business supply chain.
"The adoption of digitization and the Internet of Things is driving organizations to be increasingly connected to intelligent, worker-focused technology. Our customers are at the forefront of investing in intelligent technologies, processes and workflows to capture enormous amounts of process- and site-related data," notes Andreas König, CEO of ProGlove. "However, the need to deliver better intelligence, faster has often been hindered by endless integration loops and the sheer effort that comes with it. Our new product initiatives address this burden and help our customers stay focused on their efforts to drive warehouse intelligence and worker enablement priorities."