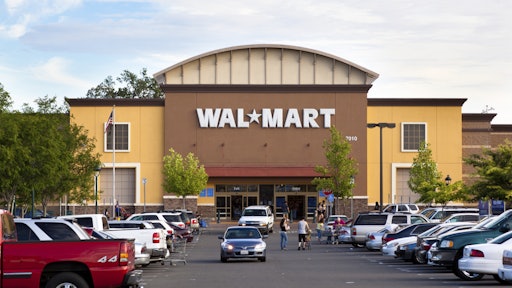 Wal-Mart is working on the perfect product for people who hate shopping in stores. A recent patent filing revealed that Walmart is currently developing a device that resembles the Amazon Dash Button. The main difference? Users would not even need to press a button in order to reorder their needed item.
Wal-Mart's system would integrate the Internet of Things (IoT) in order to determine whether an item needs to be replenished. The device would then automatically reorder or upgrade commonly used items. According to the patent, it would incorporate "a subscription device that associates tags with items, a tag-tracking device for collecting data on the tags associated with items and a management system that monitors changes in the use of items."
The tags will also be able to indirectly track when an item has been used. For example, if a person picks up and sets down their toothbrush, the system would assume that the toothbrush has been used. The system would then be able to roughly determine when the consumer might need more toothpaste. They may also be able to suggest items a consumer might also enjoy. One example is if the system detects that the consumer is almost out of milk, the system may also suggest that the consumer purchase complimentary items like cereal, cookies or chocolate syrup.
To read the full original article, please click here.