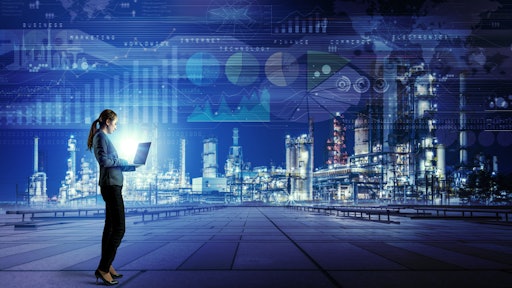 AdobeStock_182350781
This year's theme for International Women's Day is "Choose to Challenge," and it instantly struck a chord with me. Because even though creating a gender-equal world can feel like an enormous task, it's the little things we choose to challenge ourselves with individually that make large ripples.
One recent example comes to mind.
A couple of years ago, I was helping my oldest son find a university that suited him, and our tour guide at the university happened to be a female in the supply chain program. This moment wasn't only serendipitous, but it was also an exciting opportunity for us both. I started picking her brain. She started picking mine. Eventually I began informally mentoring her, and we remain close contacts today. She's now in supply chain management at a large company and doing amazing work that I'm sure to learn from as well.
Opening the door to those conversations, always keeping our antennas tuned and being of service are just a few steps we can take to help set women up for success in the supply chain industry.
Simply spotlighting our profession is its own teaching moment, as I have found many women aren't even aware of the career opportunities supply chain presents. We need more awareness around the field and more diversity within it. This will lead to bolder thinking and creative ideas that ultimately powers more innovation throughout the industry. There's a misconception that supply chain is only logistics and distribution or deals primarily in numbers. But, we touch everything – sales, marketing, merchandising, product development, planning, sourcing and more. Supply chain is a fun and exciting career, and we need to bring more women into the fold.
Here's how companies can work to bring more women on to supply chain teams.
Forging the path in male-dominated industries
Supply chain, in general, is predominantly male, but it's starting to change. Supply chain used to not be widely available in college and university curriculums. But, now there are supply chain programs at major universities, and more women are getting into the field as a result. On this journey, find someone you trust to be your sounding board. Be willing to accept help. Communicate and collaborate. Be prepared, be inquisitive and not afraid to make mistakes. Be humble and hungry, and lead by example.
Engagement across the corporate enterprise is also critical. Establish a goal to increase gender representation at the director and above level. While doing so takes participation from all employees, top down, set measurable targets to ensure accountability and change. Create a formal mentoring program, as well as employee resource groups that build valuable connections.
Be your authentic self
Challenging "status quo" thinking while remaining authentic to yourself can be difficult, but it's important. Leaders are respected for their emotional intelligence, or "EQ," and are highly valued when they can listen, communicate well and navigate difficult conversations to a successful conclusion. You can be passionate, strong, respectful – and your true self – at the same time.
Being a woman and leading men
I've worked in several companies throughout my career, and have been the only female in the room too many times to count. I've had my belongings moved off the main table to the back of the room. I've walked into many meetings with my male subordinates and had business leaders, outside of my company, ignore me until they found out I was the one they needed to negotiate with. I've taken things in stride, built partnerships and pushed forward. And, globally, there are still cultures that are not yet used to seeing female leaders, especially in supply chain. Getting mad doesn't solve the problem – it just makes women look disgruntled and unapproachable. Pick your moment, make a statement and then move in. Assume positive intent. Humility and kindness usually work wonders.
This International Women's Day, I continue to be inspired by so many strong women. I've watched how hard my sister worked as a single mom, struggling to make ends meet but still giving the shirt off her back. Both of my sister-in-laws rose to the top of their fields. My first manager saw potential in me and pushed me to take on a bigger challenge and move to a new job. And, though my mother passed away when I was a pre-teen, I learned caring and compassion from her and I think about her every day.
I appreciate and am inspired by every woman working to break through the glass ceiling in her own way and hope to do my part in driving change for women in the supply chain field.