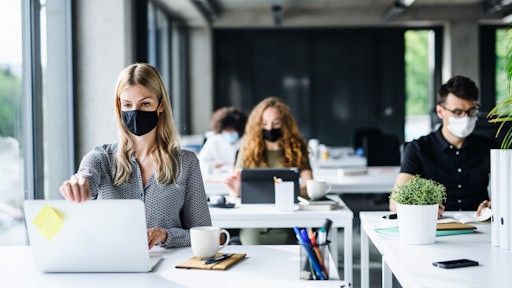 Halfpoint - stock.adobe.com
There's a generational divide in the workforce currently. Baby boomers are steadily approaching retirement age while the oldest Gen Zers are just now entering the workforce. Old best practices are now becoming obsolete as more emerging technologies are being implemented. Often times, older generations have resisted the changes surrounding modern technologies, but for this new generation of workers, this is what they were taught in school.
Despite having the skillsets on hand, the supply chain and logistics industry is still struggling to recruit and retain Gen Z talent. These are young adults that grew up in post-9/11 trauma and have lived through multiple "once-in-a-lifetime" tragic events that plagued the United States all before they reached their 20s. Now with the Coronavirus disease (COVID-19) pandemic and social justice movements on the uprise, Gen Z is taking more thought into what a job may offer. Yes, they are still seeking health insurance and paid time off, but they are also looking into whether or not a company's overall business morals align with their own.
"We need to start by looking at the students, especially those seeking careers in supply chain. Young people today are much more passionate about reversing climate change and building racial equity than past generations. While they obviously want to earn a living, they're also focused on making the world they've inherited better for everyone, now and into the future," says Abe Eshkenazi, CEO, Association for Supply Chain Management.
"The idea of doing good in addition to doing well has been a goal for supply chain professionals, but the interests of the next generation will likely hurry that along. Therefore, the most successful collegiate programs will likely be those that focus their curriculum on both core supply chain concepts and circular economies, sustainable energy and smart and resilient communities. New graduates will then be well-versed in key supply chain challenges and better able to implement successful practices and processes for their future employers," he continues.
But, supply chain degrees are still relatively new to the industry, explains Daniel Stanton, author of Supply Chain for Dummies. Although, some existing programs are currently being rebranded from logistics or operations to supply chain management, aiming to meet the new demand of skilled workers.
"What's great about this trend is that it is definitely increasing the number of highly trained candidates in the job market. In turn, as these folks go to work, they are helping their employers understand just how much they depend on their customers and suppliers, and why supply chain management is so important. Of course, it's also important to point out that universities are playing a huge role in helping companies share best practices, benchmark, and collaborate with one another. A great example of this is the industry events that universities hold, where they bring executives together with professors and students to learn from each other," says Stanton.
Still, the industry needs to do a better job at branding itself so that it appeals to future generations. Understanding the importance of the supply chain and the key role it plays in several industries can be a motivator for those who are undecided.
"The pandemic made the supply chain industry much more visible. People suddenly understood that a disruption in one part of the world can affect the shelves at the corner store. Due to the pandemic, young people are much more likely to have lived the experience of going to the grocery store to pick up their usual carton of eggs and loaf of bread and found the store shelves nearly or entirely bare. Plus, they've seen supply chain agility at work," says Eshkenazi. "They've watched as scientists rushed to invent a vaccine for COVID-19, then produced it, shipped it and got it into the arms of citizens around the world. School is extremely important, but there's probably not too much that students can learn about supply chain in a classroom that compares to the last year of their lives."
Eshkenazi explains that Gen Z is the most racially and ethnically diverse generation in history, but that often isn't reflected in higher positions. It is critical that supply chain companies expand recruitment practices to attract more diverse populations.
"The lack of diversity in top corporate echelons has come into sharp focus in recent months. Protests for racial justice and an alarmingly disproportionate number of minorities being brutally struck by the pandemic and ensuing economic slowdown have underscored the issue," says Eshkenazi. "This moment is a critical opportunity for supply chain organizations to rethink and revise their hiring practices for the recovery and beyond."
As baby boomers, Millennials and Gen Zers all start to work together within companies, it is essential that there are still learning resources available. Stanton explains how LinkedIn Learning offers two full learning paths for supply chain management. Meanwhile, universities like MIT has begun offering high-quality online courses on supply chain management as well. It's also necessary to provide new team members with the knowledge, processes and tools to be successful in their position. Supply chain certifications can also help team members become more well-versed in the industry.
"I think we're all learning that we have to adapt to different people's work styles, preferences and motivations. One thing that I think a lot of companies are realizing is that they need to track and communicate metrics about their social and environmental impact because it matters to both customers and employees," says Stanton. "There are a ton of supply chain jobs out there right now, and I think that trend is going to be strong well into the future. you'll be more satisfied with your career if you can work with a company that is having a positive impact on people and on the planet while also making a profit. But making the most money isn't the right goal. I recommend that folks should look for professional experiences that will give them a real sense of satisfaction, while making enough money to support the lifestyle you want to have."