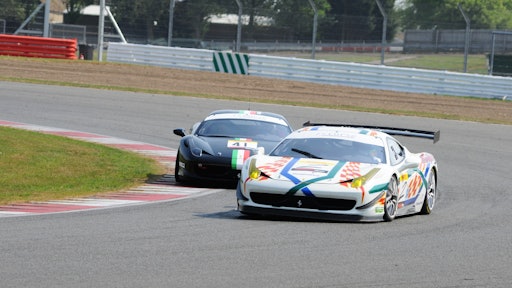 Throughout his long (and successful) supply chain career, Geoffrey Finlay has worn many hats—each of which gave him the experience, drive and know-how to turn a passion into a profitable business.
As non-executive director of Logistyx Technologies and strategic advisor to Volvo Group, Finlay also founded Evo 2 Motorsport in 1985, a business focused on creating performance and styling enhancements for race cars.
"It's a real business. It's more than just a hobby that I'm very passionate about," Finlay explains. "I've used my tenure at companies like General Electric, Kewill and JDA Software that incorporated all areas of the supply chain to really help develop, not only the cars we drive, but also my career."
Initially self-funded, Evo 2 has quickly grown profitable with success on both the motorsport side of the business and in the customization of unique cars for high-profile customers. The company is committed to three key brands: BMW, Porsche and Ferrari.
A Family Tradition
Finlay has been a car fanatic his entire life. There is not a picture of his childhood where he's not sitting atop of somebody's car or where a toy car is not tucked under his arm. This affinity for motorsports stems from his grandfather who raced regularly between two world wars. It was also a time when racing was highly dangerous with few safety measures. "(Racing) was really nothing like it is today. They took huge risks and raced at high speed on tracks that would be unrecognizable as raceways today. It was hard to believe that these cars were doing 130 to 140 miles per hour," he explains. "We think that sounds fast today, but they were racing at those speeds in the 1930s.
"I remember listening to some of my grandfather's tales. The stories he would tell were just extraordinary. Despite being only five or six years' old at the time, it was then that I became a car fanatic. There's no questioning that," he adds.
At age 17, Finlay took his love for cars to the next level, entering the sport of racing himself. And when the chance to enter the world of motorsports opened itself professionally, he jumped at the opportunity.
"I really got into developing Evo 2 after the success of other businesses I was involved in. I had some equity to spend on nice cars, and I really wanted to be competitive in the market [not only behind the wheel, but in] running a business," Finlay says. "I felt that I could do something different by turning a hobby into a business."
The Thrill of Competition
In the motorsport world, many participants are entrepreneurs like Finlay. While the coincidence is partly due to the expensive nature of the sport, it's also attributed to the overall spirit of motorsports.
"What I've found in the motorsport world, is that we're (made up of) a very large number of entrepreneurs. There are a lot of corporate guys who run big businesses and make a lot of money, but the guys that I come across who are exceptionally quick and committed to the business are all entrepreneurs.
"It's a theme that repeats itself in the motorsport world," Finlay adds. "Those who compete in a less professional arena—the talented amateurs if you'd like—the overwhelming majority of them are entrepreneurial in spirit. And maybe it's that kind of spirit we need to go out and race."