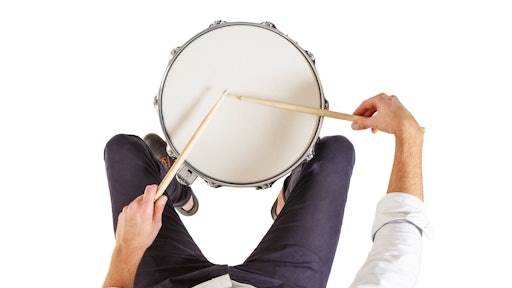 When Ken Fleming relocated to the Netherlands for a role as chief product and marketing officer at Logistyx Technologies (a software technology firm that specializes in building software or transportation management for multi-carrier shipping systems), his wife cautioned him he would never have time for his beloved hobby. But the life-long drummer should have known better.
"When I was first moving over here, my wife said to me, 'Look you're never going to have time to play, why bother shipping everything,' so I never shipped the full kit. I had two full kits back in America, and I had them in storage," Fleming recalls.
But as Fleming connected with new bandmates, he quickly realized his portable electronic kit just wasn't going to cut it. "I met these guys over here, and I said, 'This is crazy. I'm dying. I need my real drums.'"
Easier said than done, however. It turns out, after the cost of international shipping and import duties, transporting a drum set is rather expensive. So Fleming hatched a better plan.
"I literally asked my staff that every trip they took, they all had to bring a drum… I just said, 'You know what, everybody gets to carry an extra bag,'" he explains. And slowly but surely each piece of the drum kit made its way from Chicago to Hilversum.
A Passion for Rock and Roll
Fleming, who grew up in Scotland, has been playing the drums since his was a child, beginning first in a pipe and drum band—plaid kilt and all. The drums weren't his first instrument, though, as his father, a musician himself, wanted him to learn to read and write music first.
"Since I was a wee lad, I've always wanted to play the drums, but my father wouldn't let me. He believed I had to learn how to read music first, so, I decided the way to get around this was to ask my father, what instrument should I learn," Fleming says. "I thought if I let him pick it that would get me faster access to the drums after I mastered music, and he picked the saxophone."
A few years later, after he had grasped the basics of musical composition, Fleming's father enrolled him in a Scottish pipe and drum band. But his true passion lay in rock and roll.
Fleming's career in the logistics industry has taken him all over the world—from Canada and Germany to the United Kingdom and Chicago, Illinois. But no matter where he landed, one thing remained consistent—his passion for music. The marketing professional has played in numerous bands all over the globe, and once even considered making a career out of it.
"I made a choice, and my choice ended up being in computer science and supply chain," Fleming says. "And so, for me, my hobby is music. I am fortunate that my job allows me to pursue my hobbies in a big way."
A Means of Psychotherapy
Fleming emphasizes the importance of having a passion outside of the office—a statement he says defines the way he lives his life.
"You just define my life when you say work hard play hard," he adds. "The hardest thing is making sure you can do both, and one of the biggest challenges I have is that working at a global company interferes with my ability to actually do my play hard part.
"I really have a passion for something outside of work, and I think everybody should have that," he continues. "In my particular case, I enjoy many things to kind of relax and get out of that mindset of constantly working, but drums really work for me. And maybe it's a psychotherapy of allowing it to be therapeutic for me, but I just find it allows me to concentrate on something completely different. You have to be listening to the music, you have to be listening to your band mates, and so, you shut down work."
In addition to acting as a form of stress relief, Fleming's time on stage also has influenced his career path, allowing him to succeed in more communication-based positions.
"In my role (in marketing), I do a lot of public speaking and presentations, so I have to get up on stage, I have to feel comfortable in any given situation. So having that training (as a performer), stage freight has never been an issue for me," he says.
Fleming hopes to one day pass his knowledge onto the next generation of musicians. While in Chicago he mentored a group of children, which is something he continues to see in his future.
"I would love to do an education training program for kids; that's the one thing I've got a passion for now," he says, adding, "If I retire from this space, I want to open up my own School of Rock. I just love seeing what happens when kids get involved with music."