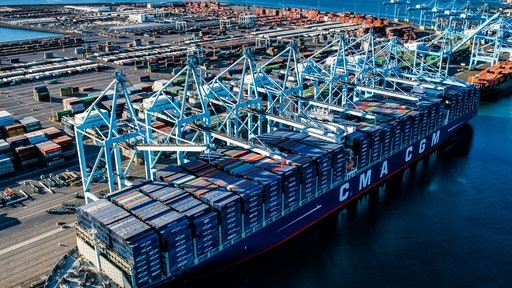 Port of Los Angeles
President Biden addressed the nation yesterday in a briefing centered around fixing U.S. global transportation and supply chain bottlenecks.
In an effort to speed up the delivery of goods across the United States, the Port of Los Angeles and Port of Long Beach moved to 24 hours/7 days a week operations.
"This is the first key step toward moving our entire freight transportation and logistical supply chain nationwide to a 24/7 system," President Biden says. "And, here's why it matters. Traditionally, our ports have only been open during the week — Monday through Friday — and they're generally closed down at nights and on weekends. By staying open seven days a week, through the night and on the weekends, the Port of Los Angeles will open — over 60 extra hours a week it will be open. In total, that will almost double the number of hours that the port is open for business from earlier this year. That means an increase in the hours for workers to be moving cargo off ships and onto trucks and railcars to get to their destination. And, more than that, the night hours are critical for increasing the movement of goods because highways — highways are less crowded in the evening — at night."
From the White House:
Walmart is committing to go all in on moving product 24/7 from the ports to its stores nationwide.
"I want to be clear. This is across-the-board commitment to going to 24/7. This is a big first step in speeding up the movement of materials and goods through our supply chain. But, now we need the rest of the private sector chain to step up as well," President Biden adds. "This is not called a 'supply chain' for nothing. This means the terminal operators, railways, trucking companies, shippers and other retailers as well. Strengthening our supply chains will continue to be my team's focus. Because our goal is not only to get through this immediate bottleneck, but to [also] address the longstanding weaknesses in our transportation supply chain that this pandemic has exposed."
Companies in this article