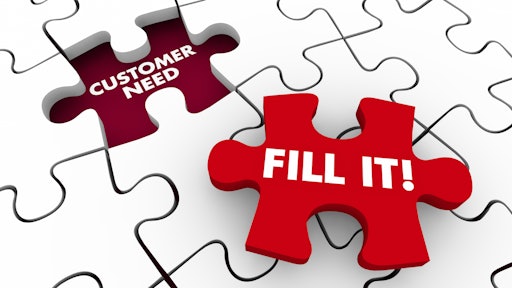 AdobeStock_216758857
The growth in e-commerce continues to shine the spotlight on the last-mile as consumers expect fast, on-time delivery, whether it's at the front door, a pickup at a store or a parcel locker. The key to success is further upstream in the supply chain in the middle mile in which fulfilling the orders typically takes place.
The middle mile is typically the part of the supply chain in which goods are transported from port or airport to a warehouse and from the warehouse to a store, direct to consumer or manufacturing facility.
Inventory management is crucial – forecasting and ensuring adequate inventory for stores and online, placement of inventory closer to consumers for faster deliveries and achieving productivity gains.
As part of the inventory management process, fulfilling the actual orders in a quick and efficient manner is necessary to achieve on-time last-mile delivery service.
Rise of e-fulfillment providers
Technology is vital, and over the past few years, there's been a number of new fulfillment providers (aka e-fulfillment providers) enter the market. Primarily, these providers have focused on small-to-medium-sized e-tailers that sell on other platforms.
For example, businesses connect their online stores to an e-fulfillment provider platform and then ship inventory to a fulfillment facility closest to its customers. From there, the e-fulfillment provider picks, packs and ships orders to the final customer as well as manages returns.
Some e-fulfillment providers are also adding last-mile services to their service offerings, which includes a combination of regional and local last-mile delivery providers.
Other e-fulfillment providers provide smaller retailers with technology tools that enable them to compete with larger retailers via a cloud-based software platform connected to an end-to-end logistics network.
Click here to hear more about different ways of fulfillment today:
Retailers invest in fulfillment
Retailers are investing in fulfillment in-store solutions to speed up online orders.
Instead of associates walking the store to fulfill an order from shelves, micro-fulfillment centers (MFCs) will utilize automated bots to retrieve items from within the fulfillment center. The items are then brought to a picking workstation, where the order will be assembled for delivery.
What e-fulfillment means to customers
This connection between the fulfillment facility and delivery hub is important.
According to AlixPartners, the maximum delivery time the average shopper will accept has fallen to 4.5 days, down from 5.5 in 2012. AlixPartners further noted that to satisfy shoppers, retailers are expanding their distribution networks with a focus closer to large population centers to facilitate rapid order fulfilment and delivery, relying on third-party carriers to handle the last leg of the delivery route.
Ultimately, what e-fulfillment means to customers is faster delivery.