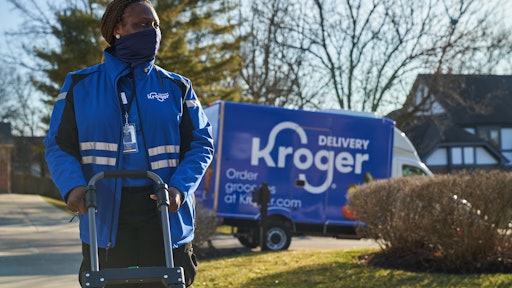 Kroger
Grocery e-commerce steadily grew prior to the pandemic, but since Coronavirus (COVID-19) the segment skyrocketed. Many retailers lean into this trend with new investments and innovations, including Kroger, who launches its first customer fulfillment center (CFC) that leans on technology for affordable delivery service for fresh food. Software and robotics platform Ocado Group powers the center, located in Monroe, Ohio. The location provides delivery up to 90 miles away and features more than 1,000 bots that work in a large 3D grid, named the Hive, controlled by proprietary air-traffic control systems in the unlicensed spectrum. The facility will employ almost 400 employees in addition to the robotics system, who will support delivery operations and help process, package and load orders. A Florida location in Groveland, Flor. will open this spring as well, with numerous other locations planned to roll out later on throughout the United States.
Per PR Newswire:
As customers' orders near their delivery times, the bots retrieve products from The Hive and are presented at pick stations for items to be sorted for delivery, a process governed by algorithms that ensures items are intelligently packed. For example, fragile items are placed on top, bags are evenly weighted, and each order is optimized to fit into the lowest number of bags, reducing plastic use.
After being packed, orders are loaded into a temperature-controlled

Kroger

Delivery van, which can store up to 20 orders. Powerful machine learning algorithms dynamically optimize delivery routes, considering factors like road conditions and optimal fuel efficiency.
The Monroe CFC measures 375,000 square feet, currently carries thousands of popular grocery products, and represents one of the models engineered for the flexible

Kroger

Delivery network, which will also include smaller facilities as well as spoke locations. The CFC can fulfill thousands of orders per day and has the capability to support fulfillment of pickup orders.
"We more than doubled our e-commerce business last year and through our industry leading seamless ecosystem, we continue to provide fresh food to our customers in a way that fits the structure of their day—whether it's coming to our stores, picking it up, delivering to a convenient location, or directly shipping products to their homes," said Yael Cosset, Kroger's SVP and chief technology and digital officer.