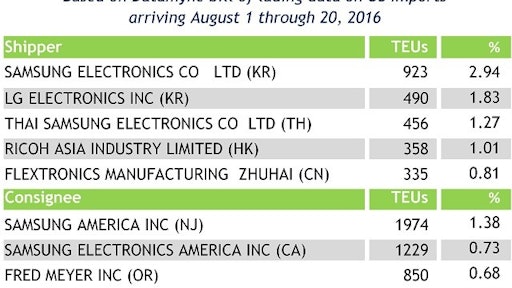 The bankruptcy of Hanjin Shipping has left thousands of 20-foot equivalent units (TEUs) in cargos at sea, with Hanjin vessels being turned away from ports of entry or (in some Chinese ports) seized.
Ranked sixth in market share for Asia-North America shipping routes in the first half of 2016, according to Datamyne trade data (as cited by Reuters), Hanjin Shipping's abrupt exit from oceangoing commerce comes just as peak shipping starts to ramp up. U.S. retailers are already asking the government to step in and sort out a cargo snarl that "could have a substantial impact on consumers and the economy at large," reports "The Wall Street Journal."
Datamyne is looking at our latest maritime trade data to identify the U.S. importers' supply chains disrupted by Hanjin's bankruptcy.
The data reveals, for instance, that Samsung Electronics, with a steady flow of shipments from operations in Asia to its U.S.-based companies, is both the top shipper and consignee using Hanjin Shipping's U.S. import routes.
Breaking out the data by the harmonized system of tariff codes, Samsung is still prominent, but other importers emerge as leaders in Hanjin's top product categories, with Coaster of America the top importer in the furniture category, Hanes Brands in apparel and Microsoft in games.
The data also reveals the ports, importing states and other information that can help you gauge the impact of Hanjin's bankruptcy on companies, product categories or local economies.